There is a false propaganda in the market off-late that the Cold-Calling culture is dead, cold calling does no good today. It is a yesteryear concept. Contradictorily a lot happens over cold calls. Have you heard of a lion starving to death? NO!! You don't. Cold calling still has and holds its uniqueness. It is THE easiest way to reach out to prospects. It still constitutes to a major proportion of due respect to every industry, NAME ANY…
Now, it takes a lot of courage to do cold calling. You need to be dynamic, robust and poses a healthy mind. As a matter of fact, the scenario is not as it was a decade back. Aren't the technical folks update themselves with latest techs & trends? Likewise, cold callers need to update themselves with the deepest knowledge possible on the product or service offerings.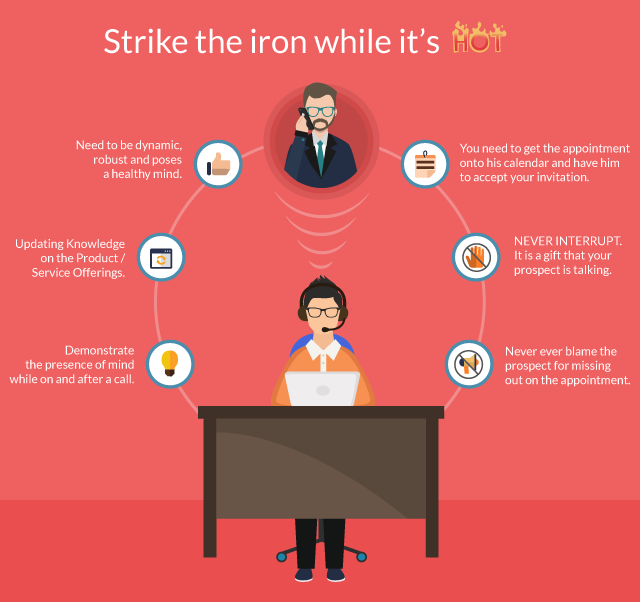 According to Harvard Business Review, there are potentially 8 kinds of salespeople.
Closers – They win deals, but can't grab market attention
Consultants – Problem solvers, but do not push to full potential
Storytellers – Customer focused and case study lovers
Focusers – Excellent product knowledge, but lack people skills
Narrators – Well informed people, but hate scripts and have a fall short when asked questions
Aggressors – Aims at negotiating but with an undesirable combative approach
Socializers – They end up making friends instead of prospects.
It is a great practice to position yourself accordingly and work on your areas of improvement.
Also, you need to demonstrate the presence of mind while on and after a call. For instance, let's assume that you have given your best on the call and let the prospect guessing. He decides to look into your service/product. It's time for you to act really swift !!!. You need to clutch onto the prospect as you might sublime from the client's thoughts. You need to get the appointment onto his calendar and have him to accept your invitation. Being slightly sloppy or laggy here would not be desirable as the prospect would continue to engage himself with his work and you might not get the meeting agenda on his calendar. Never let your efforts go in-vain. Making a cold call into a hot call itself is a big deal. It is a cruel factor that it does not stay hot for long.
The other best practice is to listen to the areas where the client is speaking and find out what he is expecting from your service and make notes for reference during the time of appointment. Don't stop with procuring the appointment. Listen further. Take notes on what areas the prospect is demonstrating interest. NEVER INTERRUPT. It is a gift that your prospect is talking. Let him. Acknowledge whatever the prospect says with verbal nods. Even if there is a 5-second silence on the call, it is okay. Make sure that he says everything he wanted to and then begin talking. These are basics of a business phone call and so, "Stick to the basics".
Secondly, even when your invitation is accepted, it doesn't mean that you are in a safe zone. There is every chance that it might be declined at the day of the appointment as the prospects might get busy with in-house priorities. Exceptions do not make the rules, never mind. Upon trying to reschedule, never ever blame the prospect for missing out on the appointment. Remember, you still need that appointment. So drive them by guilt, but passively.
Finally, there cannot be a better way to sell yourself or the product or service than the cold calling. Sell yourself to an extent where the prospect says "I would appreciate if you take our company off your database/list" to "Tell me what you've got for me this time" Yes, it might get pesky most of the times. But somehow it works. A good business call is when before the call, you need the prospect and after the call, the prospect needs you.
All the above nuances, facts, and practices are pointless unless you believe that there is a need for your product/service in the market. Get them.