There has been always a gap between the online shopping and physical store experience, which has been cleverly bridged by Augmented Reality. When people touch or interact with a product, they establish an emotional bond with it, which makes them more likely to buy it. Research by IBM showed that 58% of consumers want to get product information in-store before a purchase, and about 19% of customers will browse mobile devices whilst shopping.
According to the report, the proliferation of mobile AR apps among global consumers using smartphones and tablets is the primary growth driver for this market resulting over 864 million smartphones that are enabled with AR apps. The enterprise segment includes industries such as retail, fashion, healthcare, and logistics and automotive, where an increase in the demand for AR apps and technologies will enhance brand awareness and product sales.
Traditional marketing is by no means dead. However, providing customers with up-to-date content, discount sales and special features is not enough. What makes augmented shopping appealing is the opportunity to seamlessly interact with every digital data and receive immediate feedback. In other words, augmented reality has become a major UX trend.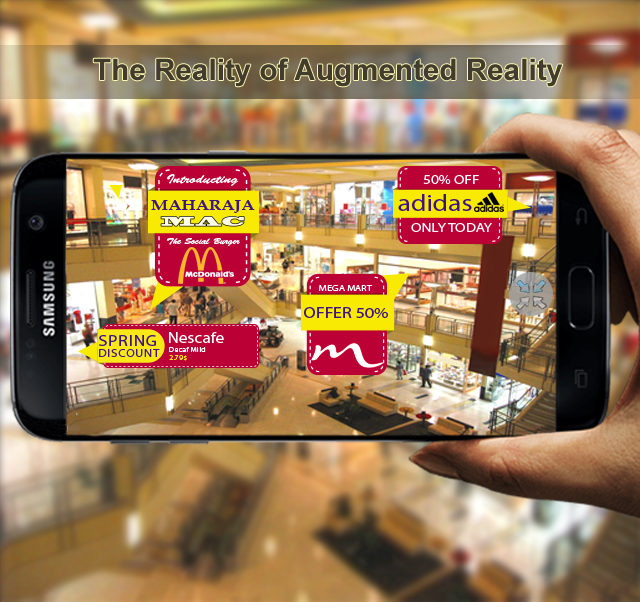 Augmented Reality Solutions Impact Shopping in 3 Ways:
Navigation: There are several examples of great AR apps used by shops and restaurants to serve their customers a hassle-free shopping experience. A Tokyo-based Aquarium cleverly implemented AR strategy; their Penguin Navi app integrates cute penguins into smartphone/tablet cameras to navigate their visitors. With the introduction of Penguin Navy, the Aquarium's attendance increased by 152 percent.
Interacting & Interesting Customer Experience: In the USA, 9 percent of in-shop and 30 percent of eCommerce purchases are returned. IBM consumer research revealed that approximately 20% of customers browse product information while in stores. Companies like Lego smartly understood the factors behind these facts and introduced AR kiosks back in 2010 that showcase creator kits in real-time mode. In order to find out what a model will look like (when completed), a customer just simply holds the box in front of the AR monitor.
Effective eCommerce and In-store Experience: Customers are more likely to shop in the stores than to buy using a mobile phone, but once in the store, consumers want in-store service available through their mobile devices. Augmented Reality enables seamless shopping experience through right from creating interactive and comprehensive product catalogs to providing virtual trials of various apparels and cosmetics; augmented reality has found its numerous uses by different brands. These interactive experience through this AR technology helps customers purchase products/service online and induce them visiting stores.
Looking to the Future of Augmented Reality:
• It is expected that AR apps will generate about 5.2 billion dollars in revenue by 2017 and thus lead the AR technology to be a 600 billion dollars industry by the same year.
• Market research indicates that over 2.5 billion AR apps will be downloaded onto various smartphones and tablets by 2017
• Analysts forecast that Global Mobile Augmented Reality (MAR) Market is to grow at a CAGR of 89% during the period 2016-2020
• At present, only 60 million people use augmented reality apps and its features on a regular basis. However, this number is strongly expected to skyrocket to 200 million by 2018 which is a massive increase of 333%!
• Volkswagen, BMW, and Boeing are already using AR on their assembly lines. By 2020, as many as 103 million automobiles will contain AR technology.
Just like the Internet of Things in general, augmented reality is all set to be going mainstream. All in all, AR is going to play an increased role in both retailers and consumers everyday lives. More and more buying decisions will be influenced by Augmented Reality, including both promotional tools and AR information services.