According to a survey there are over 2.4 million apps available in Google Playstore alone in 2016. Mobile app development is the future and the most crucial part of app development is UI/UX and security. User Interface design and User Experience have evolved over the past 3-4 years. This article will explore various UI/UX trends to be popular in 2017.
 Micro-Mini Interactions
These are basically small animations that happen in response to a user event. User event can be a touch, drag and drop, double tab, etc. The objective of these micro-mini animations is to enhance user experience. When a mobile app user touches the check box, instead of just enabling the tick mark, you can show that tick with a fade animation from bottom to top. This will give a pleasant effect to the user and keeps him engaged.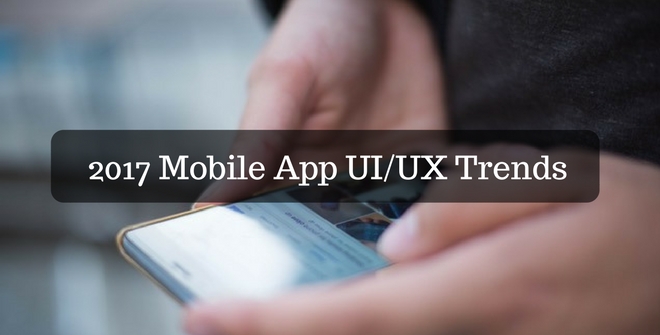 Age-Responsive Design
Designers have been using the responsive design for years now, which basically means the website will adjust based on the device size the user accesses it. Age-Responsive design is a step further in that direction. Here designs will vary based on the age of the user who is reading it. We can determine potential age of the end user based on product we're developing. If the website is selling hearing aids, then their primary target audience will be elderly people. So a design which has higher font size and letter spacing will make easier for them. If the website is selling printed t-shirts, then age responsive design can use small animations, bright colors, etc.
Interactive Walkthrough
This is basically showing the demo of the app to the user in the welcome screen. It can be a small animation or a video. It can also be a set of slides explaining the product workflow. You need to have a complete app before designing the walkthrough. You can also include the screenshots of various screens in your app. This is where you showcase the most important aspects of the app to the user. It is imperative that you provide the skip option to the user.
Virtual Reality & Artificial Intelligence
Both the terms VR and AI have been in practice for a long time now. In recent years they have become more affordable to end users. Now they are part of mobile apps. The design for a VR should change with respect user actions like head movement, acceleration, etc. In a VR a user sees things in real time, so make it beautiful.
Simple User Interface
The basic idea is to showcase only the important things and remove unnecessary things from the app. Do not confuse the user with many options; instead give him only what he wants to see. An important aspect of simple UI is the Invisible UI. In an invisible UI, we completely remove the UI and make the content as the UI. An example is Google maps who recently removed all the buttons and showed only the map.
Internet of Things – IoT
Designing UI for a normal app and an IoT app is totally different. A user in IoT interacts in a different manner. App is only one part and there is the primary hardware device. Here the primary focus should be how the app interacts with the device through the user actions.
Mobile payments
Mobile payments and wallets are the most trending topics in mobile apps now. When designing a mobile payment app, don't focus too much on the graphics instead give importance to the following things
Make it fast and smooth
Give instant response – keep the user well informed
More focus on security and gaining user trust.
Easy access to their balance
Make it seamless
Touch ID
A Fingerprint sensor on the mobile is not something new. There are many mobiles which come pre-built with this hardware. Now you can let users login to your app using touch id. No need to remember login credentials and is secure.
Card Design – Cards are basically dominating mobile design as it is present everywhere from websites to native apps. They are designed to look like their physical counterparts. They are neat, little containers for information and a style made for apps. Card-style design lies at the intersection of design for desktops and mobile devices. It bridges the gap between interaction and usability. It creates a consistent experience regardless of device.
It is basically used as an interface and distraction. Cards work well with content. Metro (from Microsoft) and flat-style cards were some of the earliest uses of cards that were specifically for apps and mobile devices. Google Maps uses layered cards to help users navigate and find the exact location. To conclude, cards will continue to stay as a fixture in mobile app design.
End of Hamburger Menu – The hamburger menu is one of the embarrassing design conventions of recent years. It is not regarded as a default, unquestioned solution for mobile navigation anymore. It's called a "hamburger" as it looks roughly like a bun-meat- bun sandwich. The idea of it was to hide site navigation on smaller screens. This design pattern accomplished a major goal by preserving precious real estate on mobile, tablet or other small screens.