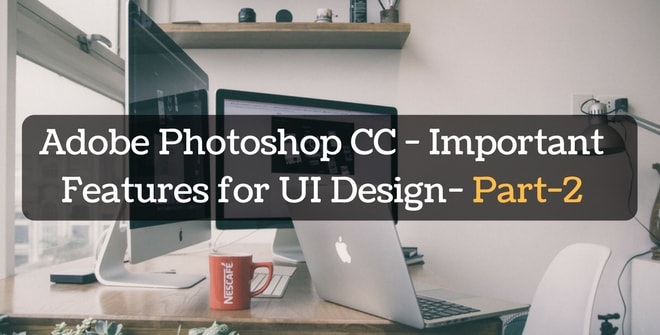 This is the second part of our previously written article about Adobe Photoshop CC. You can read that article here. We have already discussed Artboards, library, Generate Assets and Touch Bar Support in the previous write-up. Here we will be looking at other important UI features in Adobe Photoshop CC like
Device Preview
Adobe Stock
Adobe Typekit
Device Preview
This is a cool feature in Photoshop CC which makes the life of UI designer simpler. Now you can live preview your designs in Photoshop on multiple Apple devices. There is an IOS app called Adobe Device Preview where you can see the live changes from your Photoshop artboards. These IOS devices can be connected either using a USB port or using Wi-Fi.
To see live preview using Wi-Fi you need to be connected with Creative Cloud both in Photoshop and in Preview CC. Make sure both the devices are connected to the same Wi-Fi network. You can see the list of available devices in Device Preview tool in Photoshop CC, select your device and the app will render the live preview. Device preview works both on iPhone and iPads which are running on iOS8 and above.
Adobe Stock
This is a service by Adobe where designers and businesses worldwide can access over 45 million images, videos, and vectors. These images are not only royalty-free but also are of the highest quality. You can access them directly in the library of Adobe Photoshop CC. You can search for the image using the Creative Cloud library and drag the image of your choice to the project. When you are satisfied with the image, then you can license it. By default, they come with Adobe Stock watermark. You can also resize and add effects to the image before deciding to license it. You can license it directly from inside the library and no need to go their website. This increases the productivity of designers saving them valuable time.
You can either pay per license or you can opt for a subscription model that suits your requirements. Adobe Stock has got 4 subscriptions right now. They are
3 Standard Assets per month @ 30USD
10 Standard Assets per month @ 50USD
40 Standard Assets per month @ 80USD
750 Standard Assets per month @ 200USD
Adobe Typekit
This is a subscription service by Adobe which provides 2400+ fonts to choose from. You can sync these fonts to your local computer and use with Adobe Photoshop CC or you can also use them for your websites. To start using them you should be a member of Creative Cloud, if not you need to register in Typekit separately. Once logged in you can surf through 1000's of fonts and select the one which you prefer. On the Font page, click on the sync button. This will download and install the font on your local machine. To use it for websites you need to add them to a kit. Once done they will provide you with a javascript embed code. You can make the necessary customizations before buying the font. They have both free and paid fonts.