Back
An Introduction to App Store Optimization (ASO) & Its Best Practices in 2020

What is App Store Optimization (ASO)?
While creating an App Store Optimization plan, the app's name is very crucial because it's primary criteria Apple, Amazon, and Google look at to decide where your app ranks.
App Store Optimization (ASO) is the method of optimizing mobile apps to rank higher in an app store's search results like Google Play StoreGoogle Play StoreGoogle Play, formerly Android Market, is an American digital distribution service operated and developed by Google. It serves as the official app store for devices running on the "Google-certified" Android operating system, allowing users to browse and download applications developed with the Android software development kit (SDK) and published through Google. , Amazon Store, and Apple App StoreApple App StoreThe App Store is a digital distribution platform, developed and maintained by Apple Inc., for mobile apps on its iOS operating system. The store allows users to browse and download apps developed with Apple's iOS software development kit. Apps can be downloaded on the iPhone smartphone, the iPod Touch handheld computer, or the iPad tablet computer, and some can be transferred to the Apple Watch smartwatch or 4th-generation or newer Apple TVs as extensions of iPhone apps. . The higher the app ranks in the store's search results, the more visible it is to prospective users. The increase in visibility leads to more traffic to the app page in the store. App Store Optimization (ASO) is similar to Search Engine Optimization (SEOSEOSearch engine optimization is the process of increasing the quality and quantity of website traffic by increasing the visibility of a website or a web page to users of a web search engine. SEO refers to the improvement of unpaid results and excludes direct traffic/visitors and the purchase of paid placement. ) for app ranking on the app store.
App Store Optimization (ASO) is a continual and ever-evolving process. Finding and applying relevant keywords, after a bit of time, analyze it, and then replace what doesn't work. Also, the ASO technique requires a deep understanding of the target audience/customer base. For example, the keywords your prospective users will use to find your app and apps like yours. Learning about which keywords are being used, will produce a better understanding mindset of potential customers.
Build your ASO ready Android/iOS app with us! – Get Started with Mobile Application Development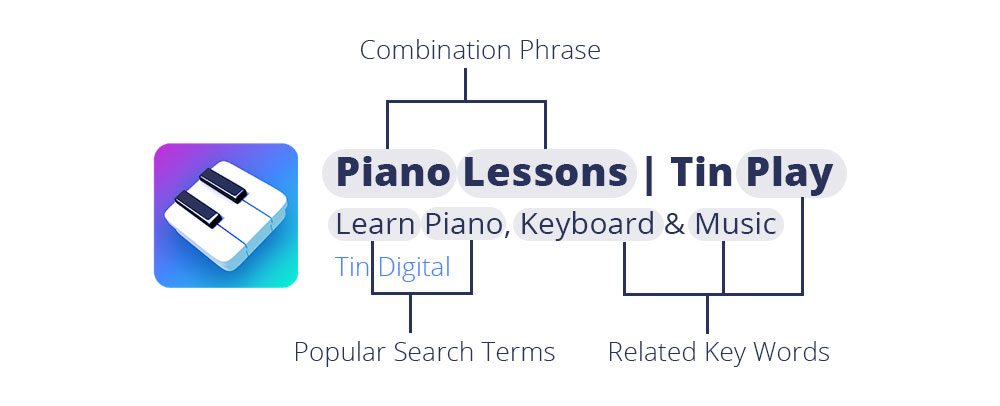 Why is ASO crucial to your app's success?
With more than 1.3 million new apps and games launched on the Play StorePlay StorePlay Store is Google's official pre-installed app store on Android-certified devices. It provides access to content on the Google Play Store, including apps, books, magazines, music, movies, and television programs, Play Store filters the list of apps to those compatible with the user's device. and App storeApp storeAn app store is a type of digital distribution platform for computer software called Applications, often in a mobile context. Apps provide a specific set of functions which, by definition, do not include the running of the computer itself. in 2019, making app discoverability that much harder. That's why the demand for ASO keeps growing dramatically.
It is said according to AppFigures that more than 60% of the Top 1,000 apps and games in the US use keyword optimization.
According to Google App Marketing Insights, 2 of the Top 3 methods of discovering apps are by using ASO strategies. Using App Store Optimization (ASO) to increase your app's search ranking is very crucial, if not you're missing out on one of the largest discovery channels available.
Similar to websites on SERPSERPSearch Engine Results Pages (SERP) are the pages displayed by search engines in response to a query by a searcher. The main component of the SERP is the listing of results that are returned by the search engine in response to a keyword query, although the pages may also contain other results such as advertisements., there are hundreds of thousands of apps in Android and iOS app stores competing to rank on the top. Just like SEO a few years ago, the majority of app publishers are not investing in App Store Optimization. It is crucial for you to devote time often improving your ASO strategies to improve your app's ranking.
Both Apple and Google are constantly working on fine-tuning their app store search algorithms to give users relevant results. Apple and Google will constantly blacklist apps and games that use black hat methods to rank higher. As of 2019, Apple began cracking down on the use of black-hat techniques. Google's algorithm currently looks to mix factors such as all-time downloads, titles, descriptions, etc. of an app to determine how high to rank it in relevant keywords.
With more app publishers optimizing on top of the already popular apps, the shorter and more generic search terms have become very competitive and hard to rank for. While auto-complete on both the stores evolves, the longer search terms will start to improve and offer more optimization opportunities.
What are the main ranking factors of ASO?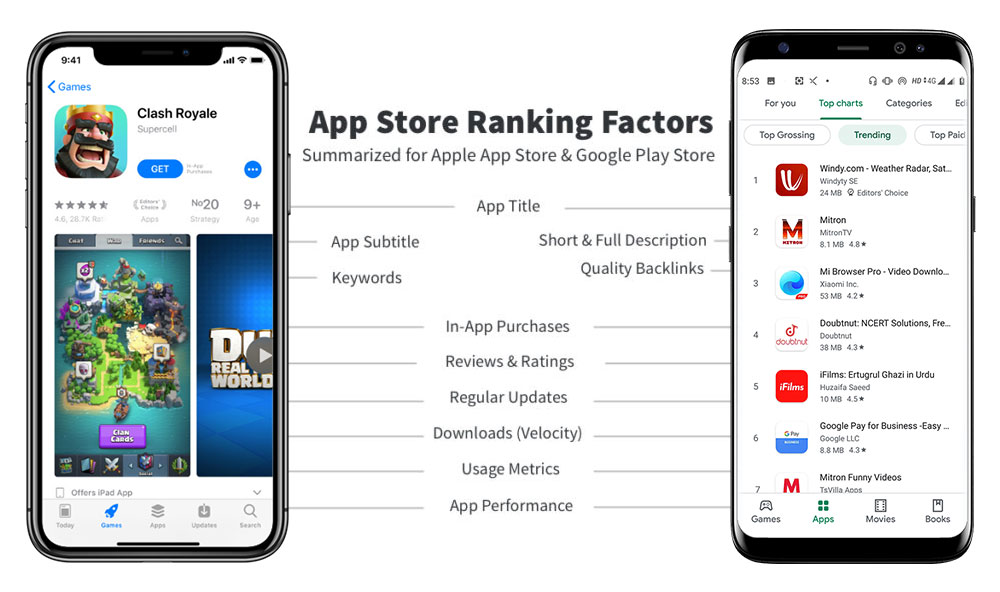 Apple App Store Ranking Factors
App Name
App URL
App Subtitle
Keyword field
In-App Purchase
Rating and Reviews
Updates
Downloads and Engagement
Some Hidden factors
Google Play Store Ranking Factors
App Name
App Description
Backlinks
In-App Purchase
Rating and Reviews
Updates
Downloads and Engagement
Some Hidden factors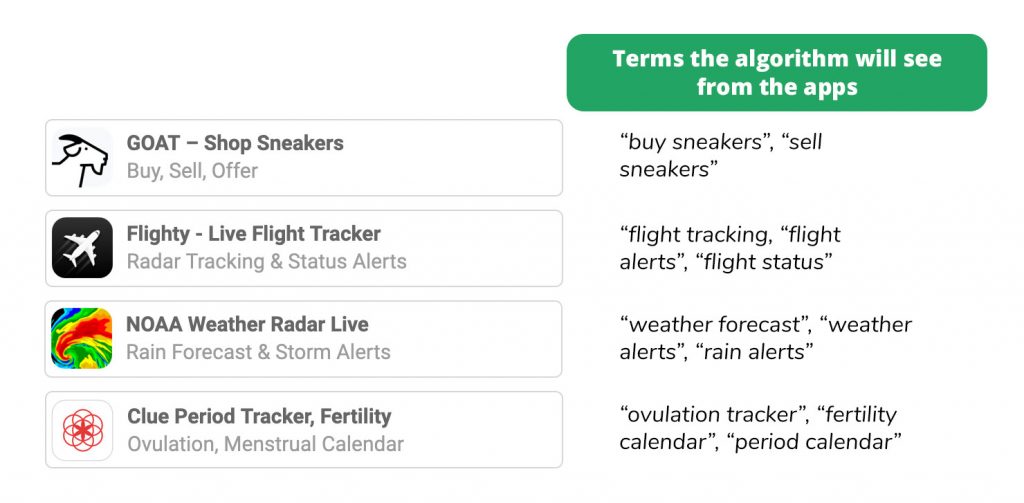 App Name and Subtitle: How to come up with a name and a subtitle?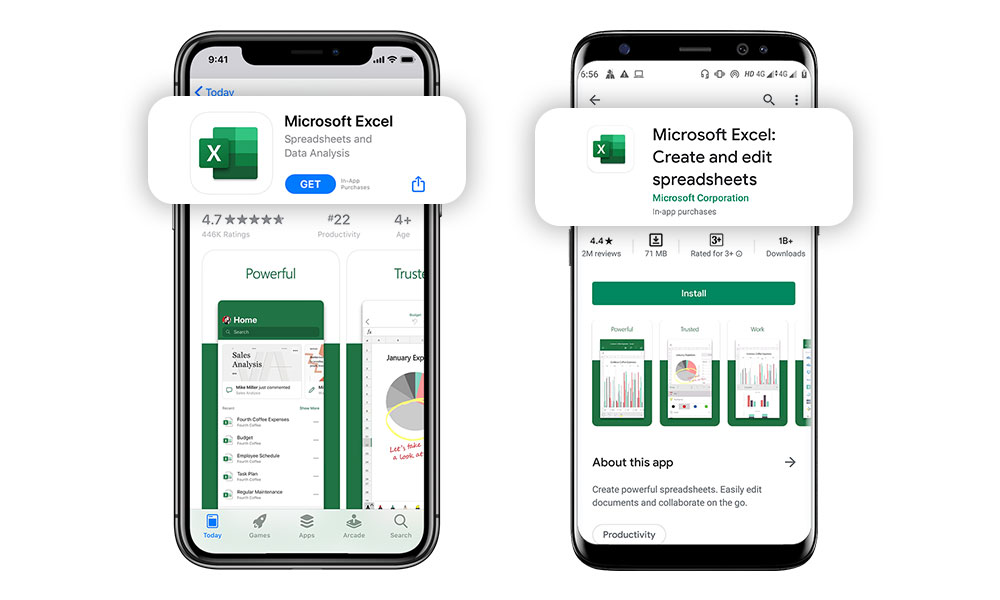 The name of your app is what every user sees first making it the most important factor. Appealing titles help people remember it, which gives your app a higher recognition value. The name should have keywords describing your app as well as purpose, brand, differentiation, and other distinguishing features. The keywords placed in the title should have a decent amount of search traffic. Spending time researching which keyword fit is extremely crucial.
Changes in your App title often will harm your ranking in the long run. Keep the changes to your app title minimal, As your app begins to rank higher and gain more views, changing the title can make it difficult for users to find it.
Firstly, the number of characters you can use for your app name and subtitle. Google allows up to 50 characters for the name and Apple gives you 30 characters for the name + 30 characters for the subtitle.
Google and Apple's algorithm focuses on each word in the name separately and also links words to make long terms. Giving you the flexibility to craft a name that includes relevant keywords for the algorithm and is also easy for people to read. Keep in mind that Google always says to create content and title for your audience and not the algorithm.
A common way to include keywords in an app's name is to add them to the primary name with a hyphen (-) or a colon (:).
See example below –
You can use this technique by doing the same. Pick the most relevant and popular keywords for your app, append them to its name.
So how do you come up with the Keywords for your ASO strategy?
Finding the right keywords for your ASO strategies is a similar process to SEO and it starts with identifying likely keywords. Start with collecting as many potential keywords as you can. Think from your potential users' perspective and what they are searching for. App store searches provide the highest probability for users to find your app among the vast sea of apps. The keyword list should include the app's features and benefits, competitor keywords, and related keywords.
You can also list your app's main features and benefits and start your keyword research. Beginning with what's most unique about the app, all the way down to its standard features note down the words that can be used.
Filter out the low volume and non-popular keywords. Look up the popularity score for each keyword on the given tools. – Google Keyword Planner, Google Trends, App Store Charts, and App Figures' Keyword Insights and App Intelligence are some of the best tools to gather and assess your keywords.
Find keywords that you are confident and can compete for. Analyze the search results and determine the app at the top primarily by its downloads and ratings and take their keywords.
Identify your top 5 keywords and use them. Filter out keywords you can't compete for, take the top 5-10 most popular keywords, and integrate them into your app's title and description.
More tools to help you with ASO keyword & App store keywords research – App Store Optimization Tools
Hence, with app store optimization, your app's possibilities are endless, and it can find a place for itself in the long run. We believe ASO should be part of the development process and suggest ASO strats to our customers while building the application. As an IT services firm with a dedicated marketing team, we not only take care of apps from their start to deployment but, we also optimize them for the app stores – Google Play and Apple App Store. Schedule a meeting with our experts or shoot your queries to media@techaffinity.com.
Ajay M
Ajay is a Business Marketer in TechAffinity's Digital Media team with extensive knowledge on tech trends involving cross-platform mobile apps, trending technologies, and more. As a Business Marketer in an IT services firm, he contributes to blogs on unique technology and marketing topics.