Back
What are Chatbots? Trends to Watch Out for in 2020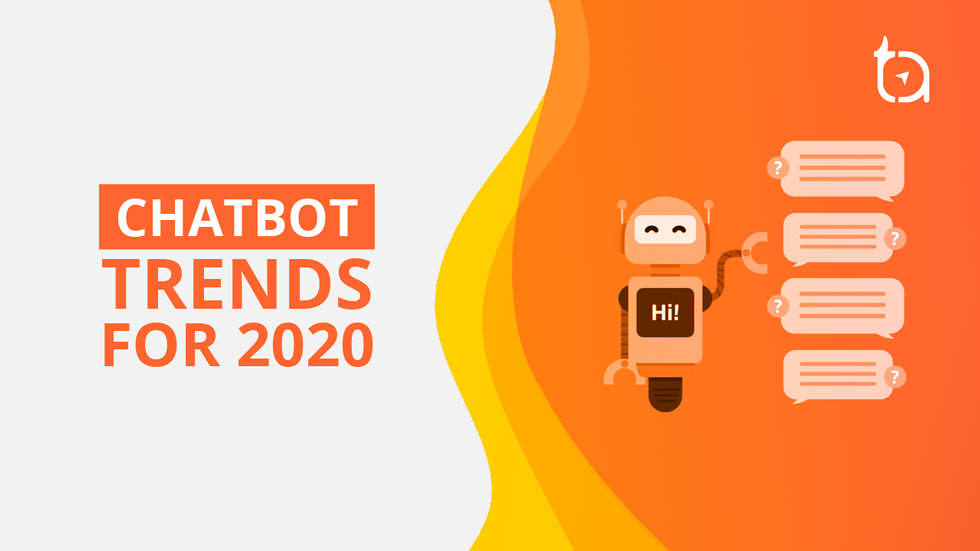 Chatbots have come a long way since their inception. With every passing year, Chatbot trends are evolving at a steady pace. Chatbots have changed the landscape for customer communication and have become quite the buzzword in marketing. Chatbots are chat robots that communicate with humans online, simulating real-life conversations. They are used across the business to answer questions a user might have and to help them navigate their website.
These conversational agents bring a new element to your website and to the way that your customers interact with your company. Expectations are getting higher for the user journey, and as a marketer, it is vital to continue trending upward.
Chatbots are in a constant state of flux as the AI frontier continues to improve and develop. And the best chatbot should supplement your current human workforce, not necessarily replace them.
What is a Chatbot?
A chatbot is a conversational piece of software powered by pre-programmed responses or artificial intelligence to answer questions without the need of a human operator."
Current State of Chatbots
– Businesses have found purposes for chatbots beyond customer service support. You'll now see chatbots playing key roles in marketing and sales. The top industries profiting from chatbots are real estate, travel, education, healthcare, and finance. 64% of internet users say 24-hour service is the best chatbot feature and by 2020, it is predicted that 85% of consumer interactions will be handled without a human agent.
Types of chatbots
Rule-based chatbots (pre-programmed chatbots)
The first and perhaps most simple bot are rule-based chatbots. These bots are the most common, and many of us have likely interacted with one either through live chat features, on e-commerce sites, or on social media.
Rule-based chatbots are able to hold basic conversations using something called "if/then" logic. A human operator – typically a digital marketer – will map out the bot's conversation using logical next steps and clear call-to-action buttons.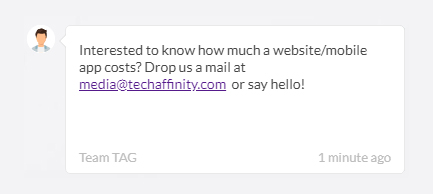 To put things in perspective(Image 1) about how rule-based chatbots work, above is an example of one we currently use on our website (www.techaffinity.com)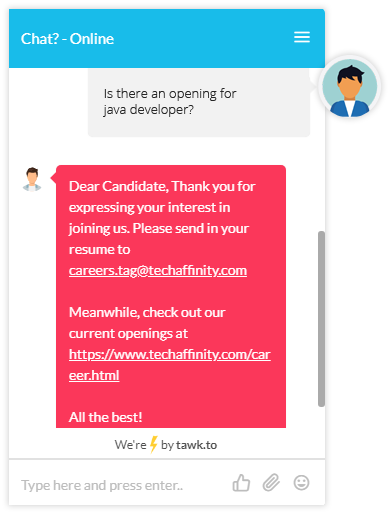 At TechAffinity, we make use of the rule-based chatbot for our career enquiries. The chatbot is pre-programmed to fire when a job seeker lands in the career section. Also, the chatbot is pre-programmed to reply to certain keywords such as "openings" "jobs" "vacancy" etc. Hence, saving time for the user to get job information instantly.
AI chatbots
Bots powered by artificial intelligence software (AI) are more complicated than rule-based chatbots. These bots are dynamic and don't rely on call-to-action buttons to map out conversations with their visitors. There are two types of AI bots.
Natural language chatbots
The first type of AI bot relies on natural language processing (NLP) to understand the visitor's context and intent – something machines generally struggle with. As far as machines are concerned, humans don't speak in logical ways. We use idioms, slang, sometimes misspell words, and express ourselves differently. Machines, on the other hand, require structure, detail, and process. NLP assists machines with understanding human language.
Machine Learning Chatbots
Machine learning chatbots are similar to NLP bots, however, they are optimized for learning about the visitor, and predicting the conversation's next steps.
ML chatbots use artificial neural networks, which serve as an artificial brain to feed large sets of data. In regards to chatbots, these datasets are typically previous conversations and questions that can help the bot learn. Like NLP bots, machine learning chatbots create a personalized experience for the visitor.
Social Media Chatbots
Most social media chatbots are rule-based, although they live on social media networks like Facebook and Twitter.
Facebook chatbots: With more than 300,000 Facebook chatbots live today, making it the more common platform for chatbot use.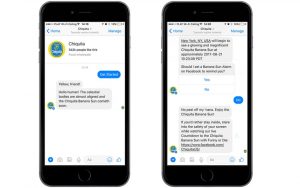 Businesses like Chiquita (shown above), Sephora, Pizza Hut, and Whole Foods are among the many using Facebook Messenger to automate customer service, marketing, and online sales.
Similar to chatbots you'll find on websites, Facebook chatbots communicate with visitors using call-to-action buttons.
Twitter chatbots: Twitter has traffic, real-time data insight along with the proper support to launch an interactive campaign, and since Twitter is increasingly regaining the focus of marketers who want to engage with their consumers, increase sales and strengthen brands. And with more advanced support for developers, Twitter chatbots must be the clear choice to become a significant part of companies' customer service and sales strategy to leverage this platform.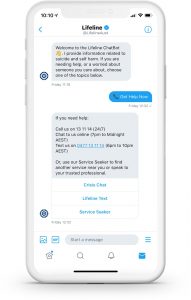 An Australian firm, Lifeline launched the #BeALifeline Twitter Direct Message Chatbot to help people better support loved ones who are going through a tough time. The chatbot makes Lifeline's resources easily discoverable and serves as a touchpoint for primary caregivers to discreetly request support in rough times.
#BeALifeline chatbot can be used via Direct Message on Lifeline's Twitter page @LifelineAust. To activate the DM chatbot, visit Lifeline's Twitter homepage and click on 'Direct Message' to start a conversation.
Insights and Statistics about Chatbots you Should Know

40% of millennials say that they chat with chatbots on a daily basis (Acquire.io, 2018).
64% of internet users say 24-hour service is the best chatbot feature (The State of Chatbots Report, 2018).
21% of consumers believe chatbots are the easiest way to contact a business (Ubisend, 2019).
In e-commerce, 34% of respondents said they would prefer to answer questions from AI via chatbots or virtual assistants (Chatbots Magazine, 2018).
53% of customers are more likely to shop with businesses that they can message (Outgrow, 2018).
58% of companies that use chatbots are B2B tech (Ubisend, 2019).
42% of companies using chatbots are B2C (relay, 2018).
85% of all customer interactions will be handled without a human agent by 2020 (Gartner, 2017).
40% of mobile transactions will be handled by smart agents by 2020 (Gartner, 2017).
56% of businesses claim chatbots are driving disruption in their industry (Accenture Digital, 2018).
57% of businesses that agree chatbots deliver large ROI with minimal effort- (Accenture Digital, 2018).
70% of millennials report a positive experience with chatbots – (Forbes, 2018).
Why businesses are using chatbots?
More Customers Prefer Chatbots for Instant Communication
A joint study by Drift, Salesforce, and Survey Monkey found that 69% of customers benefit from using chatbots to get quick answers for simple questions. Though they do not trust them entirely, they believe that chatbots can respond to their queries more quickly.
75% of customers also expect to get instant responses from chatbots only ranking behind online chat with 77%. According to a LeadResponseManagement.com study, there is a 10x decrease in odds of getting in touch with a lead if you respond after a delay of 5 minutes.
With ease of use, chatbots ensure consumers can reach out to businesses at the touch of a fingertip.
Chatbots Provide 24/7 Customer Service
Customer service chatbots will be saving businesses $8 billion by 2022.
Another benefit of chatbots is they do not have to adhere to business hours. This best chatbot can be made available to the customer at all times and enable instant access anytime, anywhere. So, if a customer needs solutions at unusual times, chatbots can help resolve such situations.
Chatbots Help Acquire Customer Information
Chatbots can be used to gather visitor information after their consent for marketing newsletters, webinars, schedule appointments, and even guide customers to a landing page or e-commerce site to finalize transactions.
Chatbots can be used to collect basic information from users without the need for humans to do such redundant work. Businesses can use chatbots for automating such processes and save time and money.
Thus, with the help of chatbots, you can divert your workforce from monotonous and repetitive tasks and help them focus on more productive tasks. Certainly, this helps to increase the productivity of your workforce and achieve more tangible targets.
At TechAffinity, we help businesses automate tasks that are more time consuming for their business. Depending on the requirement, we come with a plausible solution that addresses the problem. Line up your queries and email them to media@techaffinity.com or get in touch by scheduling a meeting.

Abishek Surya RS
Abishek is a Business Marketer in TechAffinity's Digital Media team. He writes content relevant to our knowledgeable audience primarily focusing on technology, marketing, and the latest trends.