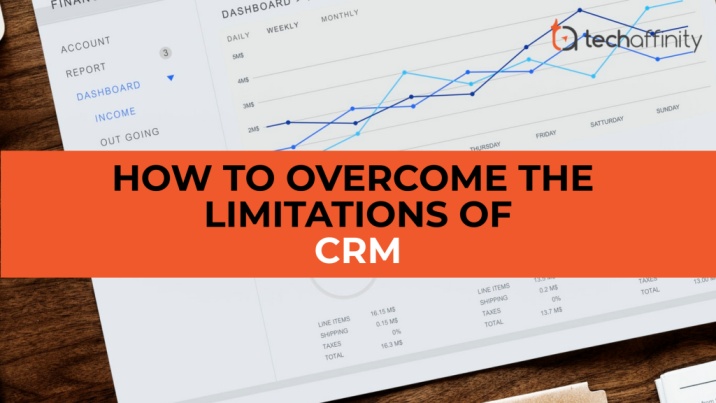 Customer Relationship Management (CRM) is an application that helps businesses achieve their mission. Also, it enhances the transparency within the organization, and thus, overlooks the quality of work carried out by the executives. Many people are under the impression that CRM for small business is an unnecessary expense. But that's not true. With essential data support, CRM can be used to scale the business to the next level. We all know in every process there are some advantages and a few disadvantages.
CRM technology is no different when it comes to this aspect. But, what's unique about CRM is, we can overcome the limitations of CRM.
1. HAVE PLAUSIBLE GOALS
The first and foremost thing to be done is to have mutually agreed on goals for their need before installing the CRM. Sadly, 60% of companies do not figure out their goals properly before installation. Frankly, a CRM initiative without a goal will collapse, just like making baseless points.
According to Jim Rubin, "Doing the CRM implementation in stages and demonstrating the benefits to each stage is critical to the success." Hence, planning and conducting more manageable implementations which can be accomplished in a period of 60 days or 30 days or 90 days would fetch a quick return on investment (ROI).
2. ENSURE SEAMLESS INTEGRATION
An effective application to integrate all the customer data efficiently and accurately is still a nightmare. One such scenario happened with a reputed private concern in its customer support division. When a customer calls for support, the customer details seldom pop or retrieve wrong information and in the worst cases, it used to fetch irrelevant data of the available customer details.
They started to work with a popular tech giant and sorted the issue out after a 9 months struggle. He said, "We now have a consultant whose expertise is a level higher than what we had. We feel comfortable with where he is taking us." Thus, integration has been improved and they managed to overcome the issue.
3. HAVE A LONG-TERM STRATEGY
CRM is a business process change supported by technology and is not a complete technology solution. Addressing the job roles and responsibilities, accountability, and incentive issues are required for the CRM to attain the end goal.
According to Jonathan Copulsky, "There continues to be a tendency to look to technology as a sort of business panacea." Therefore, formulating a long term strategy to help make the CRM implementing employees to understand how the executives would be benefited from the implementation makes CRM succeed.
4. KEEP AN EYE ON DUPLICATES
Inspect the CRM data regularly as data is the lifeblood of it. If data with wrong information, misleading spellings, and contact numbers are present then the system is infected badly. Dirty data not only cost millions but also hinders the adoption rate of CRM.
When asked Ken Chow, it is more natural and common to have 25-40% of data duplication rates. One of the clients he handled had a hard time with duplicates created by their executives. When they started using a data quality checker, it inspected duplication's and inconsistencies, then reconciled the data. Chow added, "Once did that it went from a single-digit adoption rate to a 98 percent adoption rate."
5. CULTIVATE ACCOUNTABILITY
Since CRM technology is new to many managers, there kicks in a fear of the unknown and builds resistance in the form of avoidance and lack of accountability.
In order to cultivate accountability into managers, a revision in the compensation packages or bonuses will solve the purpose. According to Mike Overly, "One of the reasons for our recently successful company-wide transition to a new CRM is that there was some financial compensation for some executives associated with meeting their CRM milestone deliverables."
Thus, accountability was cultivated company-wide and CRM was adopted successfully. CRM for small business is a platform that helps organize and track every aspect of the sales pipeline, consolidate all customer data and information from all digital channels
CRM system's success lies within the workforce. The implications in implementing the CRM can be rectified when analyzed carefully. As we have seen above, effective collaboration with the right technology pioneers will solve all the issues a business could possibly encounter with a CRM system.
Get in touch with us for a technology consultation today and get the CRM integrated into your environment without any hassle!