Back
Reinventing the Sales & Marketing Wheel for Software Products – A look back at #G2Reach by G2

According to the official G2's website – "G2's first-ever, one-day-only conference, designed specifically for people who sell and market software." The conference brought together marketing and sales professionals from companies around the world. The event was focused on businesses/software vendors to reinvent, refresh, and revitalize their approach to sales and marketing. TechAffintiy at the event was represented by our Founder, CEO – Jam Nelavai and Chief Business Officer – Anubkumar.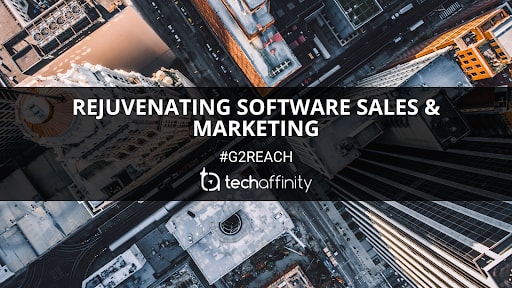 Various topics discussed the modern-day and future challenges faced by sales and marketing professionals. Some of the key topics addressed by the speakers were – high-quality traffic, Modern Marketing trends, and real-world case studies.
The events featured speakers who are successful Sales and Marketing professionals from companies that are leading the pack in the Digital Age. Neil Patel – an Entrepreneur, Speaker, and Founder of successful online businesses shared insights into his marketing journey.
Mark Roberge – Author of "The Sales Acceleration Formula," narrated his understanding of "Buyers Have Changed, Sellers Have Not." Dave Gerhardt – VP (Marketing) of Drift, shared the resourceful "10 Commandments to Modern Marketing." Meredith Kopit Levien – COO of New York Times, shared working models to "Earning Trust in the Digital Age," and every speaker's keynotes helped us in changing the way we approached marketing and sales.
Since inception, TechAffinity has been supporting software product companies with software development and allied services. As an IT services company, the insights gathered from G2Reach helped us in understanding the complexities in marketing and selling software products and delivering diligent digital marketing services.