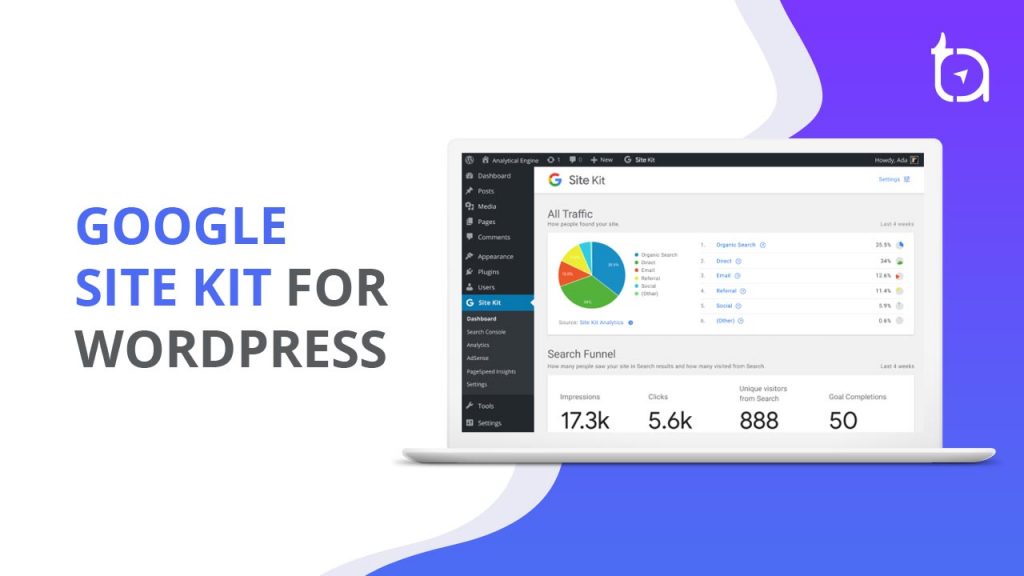 What is Site Kit? – Google's Site Kit for WordPress
Google announced that Site Kit is now accessible for everyone from the WordPress plugin directory. Site Kit is Google's official WordPress plugin — it gives you insights on how people find and use your site, how to improve and monetize your content, with data from multiple Google tools. Let's discuss the specialties of the Google Site Kit plugin.
Since, Google Site Kit is a free, open-source plugin it brings together insights from essential Google products (such as Search Console, Analytics, AdSense, PageSpeed Insights) for WordPress sites. Site Kit makes it easier for website owners who want insights about their audience and revenue performance, all in one dashboard.
Supported Google Services
Site Kit shows key metrics and insights from various Google products:
Search Console: Understand how Google Search discovers and displays your pages in Google Search. Track how many people saw your site in search results, and what query they used to search for your site.
Analytics: Explore how users navigate your site and track goals you've set up for your users to complete.
AdSense: Keep track of how much your site is earning you.
PageSpeed Insights: See how your pages perform compared to other real-world sites. Improve performance with actionable tips from PageSpeed Insights.
Tag Manager: Use Site Kit to easily set up Tag Manager- no code editing required. Then, manage your tags in Tag Manager.
Optimize: Use Site Kit to easily set up Optimize- no code editing required. Then, set up A/B tests to Optimize.
Benefits of Google Site Kit
Easy-to-understand stats right in your WordPress dashboard.
Official insights from multiple Google tools like Search Console, Analytics, AdSense, etc.
Single integration setup for multiple Google tools without having to edit the source code of your website.
Aggregated insights from Google products, refined in a dashboard that can be easily accessed and collaborated on. Reduces the manual data input from multiple products to compile reports for clients.
The site performance stats and improvement suggestions come directly from Google — you will be getting the latest best practices recommended by Google products.
Easy role management – Google Site Kit provides roles and permissions to help you manage access to the site's data and share the data with only the relevant people.
Added value for your platform. If you have customers, now they can get important information about how their site is performing right in their custom dashboard.
Flexible and easy to use UI. It can pull stats from the plugin dashboard and display stats natively inside your UI.
The main dashboard helps you to understand: how people are finding your site (traffic sources, channels, referrals, etc.), most popular pages, and search queries are used to find your site.
Get started with Site Kit – Install Site Kit on your WordPress website

In the left navigation menu, click Plugins.
Click Add new.
Enter "Site Kit" in the search bar. You should see the Site Kit plugin on a search results page. (install the plugin from the WordPress plugin directory) (google site kit WordPress plugin download)
Click Install.
Click Activate.
Few tips on how you can understand your audience with Google Site Kit for WordPress:
Review the main dashboard weekly and check for any significant changes in how people are finding your site.
Keep track of how your recent posts are doing by checking the individual page reports.
Compare the top-performing pages and how people found them. Insights into if a particular topic or product is attracting more visitors from social channels?
Set up new Google services to get more insights — With PageSpeed Insights and Analytics coupled, you'll be able to understand whether page load time affects the bounce rate.
Download and install the Google Site Kit plugin for your WordPress website and enjoy the benefits from yet another genuine product from Google. Get Google insights from your WordPress dashboard today, and advance your website to satisfy your userbase.
Our expert WordPress development team will help you out with your WordPress development process. Feel free to share any of your website requirements with us by dropping an email at media@techaffinity.com or get in touch by scheduling a meeting.