Products across the globe, in all sectors now face the bitter reality that their strategy towards modernizing legacy systems can no longer be ignored. With the degrading skilled workforce in the market that still support these fossilized technologies or frameworks, it is indeed the right time for product owners to modernize or re-engineer their dinosaur old application/products to newer technologies or frameworks. The general hoax around these product owners is that re-engineering or revitalization will incur a considerable cost and time with the end result being questionable, have pushed them to accept the ever-spiraling cost of continuing to run their legacy systems following the principle "if it ain't broke don't fix it".

Hurdles faced in maintaining these legacy systems are:
Recurring Cost – These systems are extremely expensive and difficult to maintain.
Limitations –Though these systems meet the core needs of the business and clients, but lack the capability to enhance and update.
Skilled Resource –The resources responsible for maintaining the legacy system are fading off. Which in turn incurs huge infrastructure and resource maintenance cost.
With IT space getting more and more competitive it is a "Do or Die situation" for these old technology based product owners to innovate, re-engineering, revitalize in order to stay with Stride or get drowned due to lack of competitive edge.
Modernization strategy Framework: With the clock ticking it's high time to implement legacy modernization and start implementing one. Legacy system owners will have to adapt to any one of the below options.
Opting "DO nothing" approach is as good as detonating our business venture one must strategize their legacy modernization with the below three approaches.
Application migration – by this approach the same legacy technology would be migrated to latest version releases in order to ensure a low-cost approach. The challenge by this approach is that it would only provide a breathing time for product owners to plan their technology re-engineering after few years since "Modernization is Inevitable"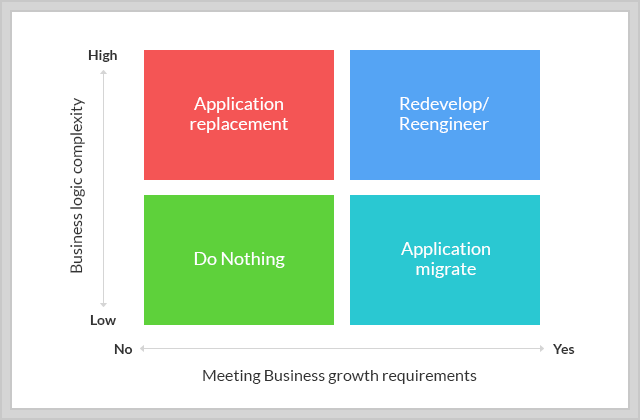 Application replacement – this approach focuses on substituting an off-the-shelf package for existing functionality or the product itself. The challenge in this approach is that the system can be extended or enhanced based on the flexibility that the packaged solution offers.
Application redevelopment – redevelop applications that offer high business value but that can also be extended easily to meet growing business needs. A considerable cost and time are incurred but at the same time re-usability of some components can also be substituted to reduce the overall cost and turnaround time.
With the evolution of service-oriented architecture and modernization technique like architecture-driven approach are seeing huge successes causing many legacy owners to take notice and transform their applications, data, and platforms. The re-engineering ecosystem is fast growing and Technology companies see an opportunity to provide value. So choosing the right technology platform and solution partner are crucial.
TechAffintiy a technology-driven company delivering sentinel solution have successfully revitalized, re-engineered, redeveloped several legacy application to the latest technology. Having experts in various technologies like.Net, Java, Mobile, PHP, RoR, Python, JS Frameworks, etc we could address any of your IT needs in the best quality and in a cost-efficient manner. TechAffinity have proven successful re-engineering and migration for more than dozen based legacy products that originated initially in older technologies such as Cold Fusion, C, C++ and Delphi to more robust Web-based and mobile supported technologies such as Dot net, Java and many more.
TechAffinity's Success story on Legacy Revitalization
Problem Statement:
A client had an existing standalone system with various disjoint operations including document management to handle the logistics.
The core challenge was client had to do a manual update to each of the individual systems for every upgrade resulting in huge cost and time.
To do away with platform dependent desktop based application.
To switch from a legacy document management system to an advanced new age document management system.
To automate the invoice processing.
Proposed Solution:
TechAffinity developed a platform independent web based application on .NET Platform where a user can scan and view the documents on the web application using a third party SDK from Dynamsoft.
The proposed solution had a central data repository that is designed as per the industry best practices.
TechAffinity used parsing technology to automate the invoicing process where users can send the forms and PARS (Pre-Arrival Review System) clearance forms over email and/or fax to end user.
TechAffinity developed more than 20+ schedulers to automate the business processes, thus shortening the time taken for completion of the processes.
Custom entity framework with n-tier architecture was implemented to realize the following benefits.

Multi-level layers to access Data model
Better Performance, maintenance, and re-usability
Process customization using the schedulers and SQL job schedulers
Uses the power of jqGrid to present the records in a simple and user-friendly manner.
Success reaped from a proposed solution:
A completely automated system with schedulers for reduced manual intervention, reduced operational cost, and time.
The service-oriented development architecture allows the client to migrate to any server-side technology or to any client-side views (iPad, Kiosk, etc.) at any point in time.
Centralized data store with enhanced security and control without compromising flexibility.
A single online system with all the business components.
Future application enhancements made easy.
Still confused to decide between right revitalization strategy for your fossilized applications, STAY IN TOUCH with us for a free legacy modernization consultation.