Back
Announcing our Expansion and New Dev Center in Kigali, Rwanda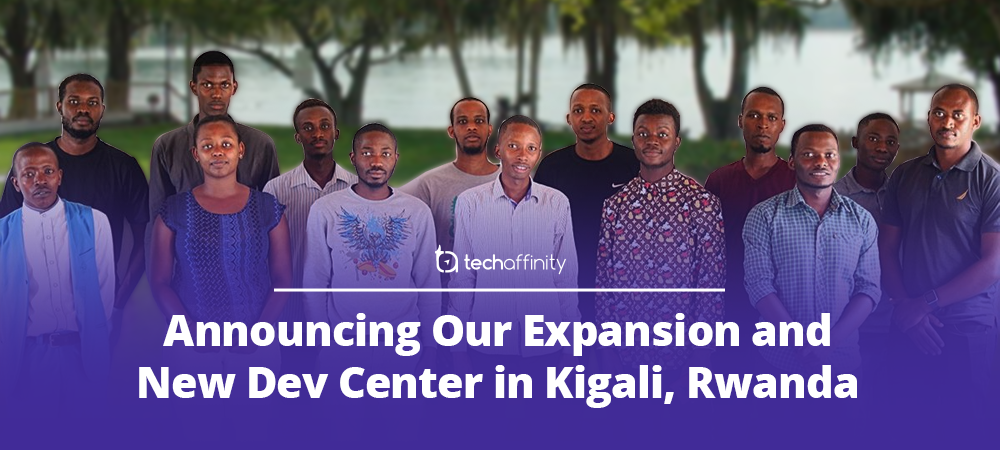 We at TechAffinity are proud to announce that we are increasing our global footprint by opening our first Africa Dev Center in Kigali, Rwanda. The new office located in Kimihurura, Rugando region signifies our continued global growth and development.
With the pandemic affecting businesses across the globe, we at TechAffinity withstood and pushed through to deliver continued success to all our clients during the crisis. Our expansion in Rwanda is a testimony of our tremendous capabilities of delivering and growing continuously through challenging times.
Our New Chapter, Rwanda!
Started in April 2021, our Rwanda chapter grew from a two-member team to an impressive 20 member team in less than 2 months.
With the list of ever-expanding bright young Rwandan talent joining our ranks, our Africa Dev Center is capable of delivering in all modern technologies. The Rwandan team is constantly growing and we envision a 50+ member team in the near future.
Rwanda is one of the fastest-growing countries to embrace Information Technology in Africa. We are glad to be part of Rwanda's journey to embrace the future in becoming a high-tech hub.
Spoiler Alert / Sneak Peek
We will be announcing our next global dev center to be opened in the beautiful South East Asian country of Vietnam! We are excited about yet another chapter in our global expansion journey! Stay tuned for details about our Vietnam dev center.
Greater things are yet to come! #BeFutureReady

Anubkumar Dharmabalan
Anub leads the continued development of the TechAffinity's sales team and global customer base. With over 25+ years of experience in various sales leadership and operations roles, he is renowned in the SME industry for playing a key role in conceptualizing and implementing successful sales and business operations models for Small and Medium Enterprises.