Back
TechAffinity is at #G2REACH – Let us Help you to Reach New Heights

For the first time, G2 is hosting a one-day-only conference – REACH, on 11 September 2019 at Revel Fulton Market in Chicago. The conference is designed specifically for people who sell and market software.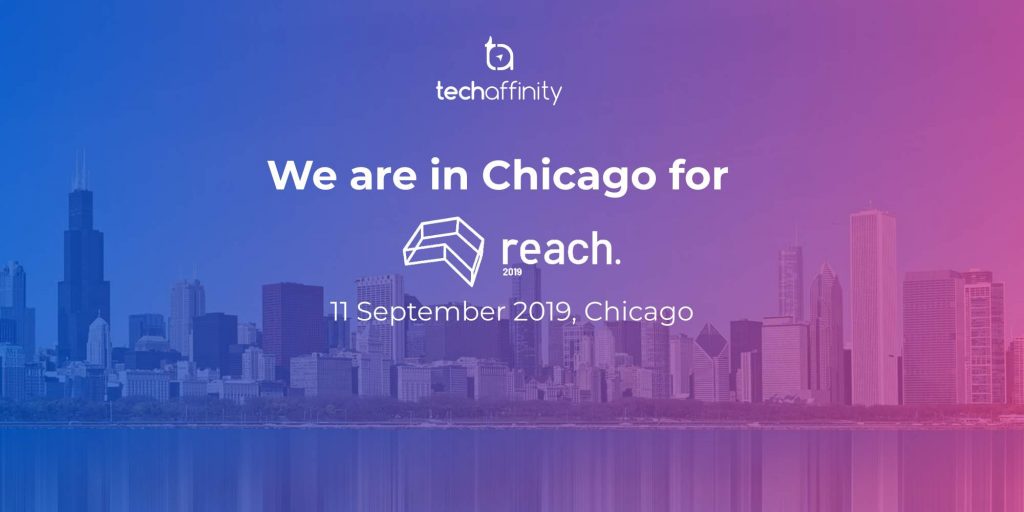 The much-awaited event is graced by the presence of industry-leading senior marketing and sales professionals from the world's most innovative companies. Neil Patel (Neil Patel Digital), Steven Galanis (Cameo), Dave Gerhardt (Drift), Sangram Vajre (Terminus), Ryan Bonnici (G2), are some of the speakers you can expect in #G2Reach. Industry thought leaders will be discussing new ideas and create opportunities to level up your marketing and sales strategies.
TECHAFFINITY PUSHES GLOBAL BUSINESSES TO REACH THEIR GOALS
We, at TechAffinity, are a global IT services firm and help businesses to develop state-of-the-art IT products of their own. We have partnered with several product-based businesses and assisted them in turning their vision into reality.
Our expertise helped businesses to modernize their product, customize it to the contemporary UI/UX standards, and enabled integrations for seamless communication between software. Our team will be attending REACH to showcase our partnerships and capabilities of our two-decade legacy in the IT services space.
MEET US AT #G2REACH AND REACH NEW HEIGHTS
REACH out to us in Chicago to discuss business over a coffee. Feel free to book a meeting at the Revel Fulton Market.


Anubkumar Dharmabalan
Anub leads the continued development of the TechAffinity's sales team and global customer base. With over 25+ years of experience in various sales leadership and operations roles, he is renowned in the SME industry for playing a key role in conceptualizing and implementing successful sales and business operations models for Small and Medium Enterprises.