Back
Tips to Design A Landing Page That Converts

What is Landing Page?
A web page created for a specific Marketing Campaign is a landing page. The singular aim of these pages is to convert people into sales leads and then target them with your other communications. The purpose of the landing page is to stand apart from your main website where visitors may get distracted by other messages.
With an easy to use and unique design, a landing page is the place to include a form for gathering a visitor's data. People can instantly see what your service offerings are, why they should be interested, and what solutions you will provide for them.
On your landing page, you will convert visitors into leads by offering your solution that they can't find anywhere else on your website. For Example,
Access to download and view the content you have created – like whitepapers, ebooks, webinars, etc.
Discounts on your products or services.
Demos or free trials.
Where Does Traffic Come from?
By clicking on the call to action button in an email campaign or paid ads.
Social media content
Backlinks
1. Keep Your Audience In Mind
Knowing your audience and being clear about the message you are conveying is crucial in improving your conversion rates and increasing the relevancy of your landing pages. Not all the customers are the same, so target your audience by creating different landing pages. This may help in conversion rate optimization as well.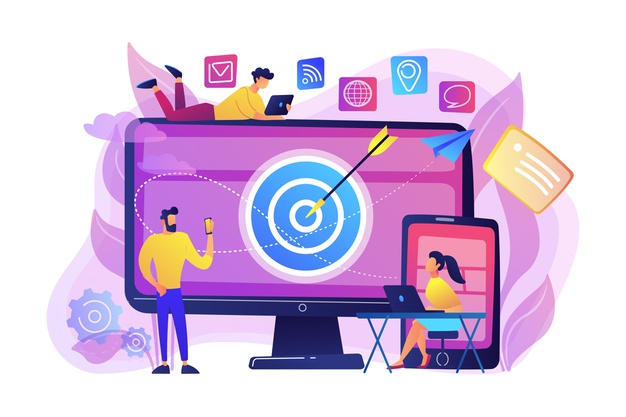 2. Clear " Call-to-Action"
A call-to-action (CTA) is an image or text that prompts visitors to take action, such as subscribe to a newsletter, view a webinar, buy products, services or request a product demo. In other words, CTAs guide people to places where you can collect visitors' contact details in exchange for something valuable. In summary, an effective CTA gets you more leads and conversions, both in the short term and in the long run.
To increase visitor-to-lead conversion opportunities, you need to create a lot of CTAs, distribute them wisely across the landing pages, and optimize them for maximum performance.
Main features of CTA,
Where it is(Placement)
What it looks like(Design)
What it says(Text)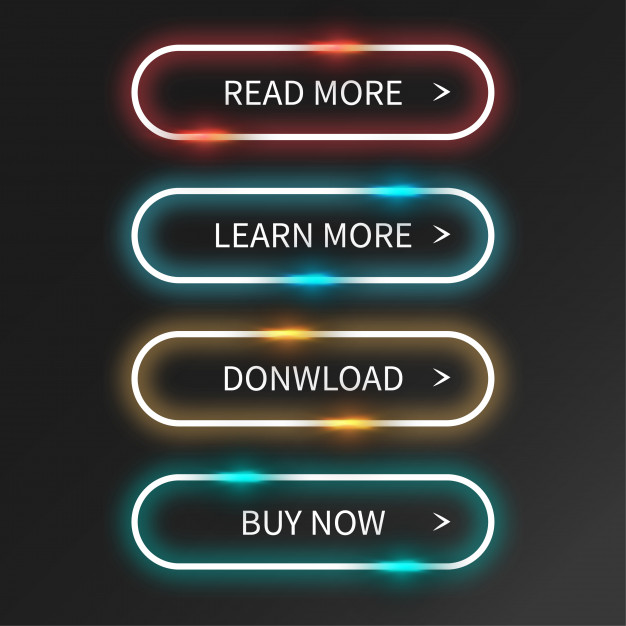 3. Limited Navigation
While designing a landing page , an important consideration is to preserve an attention ratio. Make sure your landing page includes only what you want your visitors to do. For example, you could get rid of your website's navigation bar, exclude any internal or external links, and skip featuring any related offers. Your focus should solely be on making the visitors fill out your lead-capture form and generating a conversion.
Whether it's the top menus, footers, social media links, sidebar, sliders, popups  – anything that serves to distract the viewers from filling out your form or clicking on your button should be pushed out of focus as much as possible.
4. Page speed and Responsiveness
How much time do you think a visitor takes to decide whether to stay on a page or abandon it?
"3 short seconds"
And what if your visitors don't even see the content because of load time? Most visitors will just close your page and move on to another site.Sometimes, Forever.That is how competitive the market remains and that is how it is going to be in the future.
To stop that from happening, here is what you can do:
Make sure your landing page has no clutter. Just include a minimum amount of heavy elements and graphics.
Take the help of online services to check the load time and weight of the page.
Using a graphics editor, alter the width and height of images.
Compress images and then upload them to the page.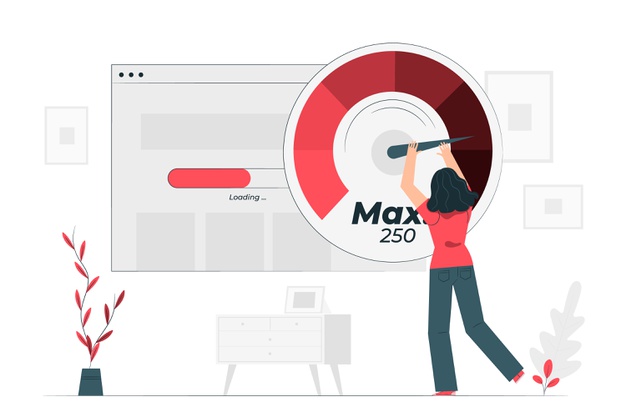 With 49% of the world's population using mobile internet, you might think optimizing landing pages for mobile rarely gets overlooked, but it still often ends up as an afterthought.
Earlier it was enough to pay attention to the design and functionality to create interesting, high-quality, and effective web pages. Today, a fully responsive design, matters a lot.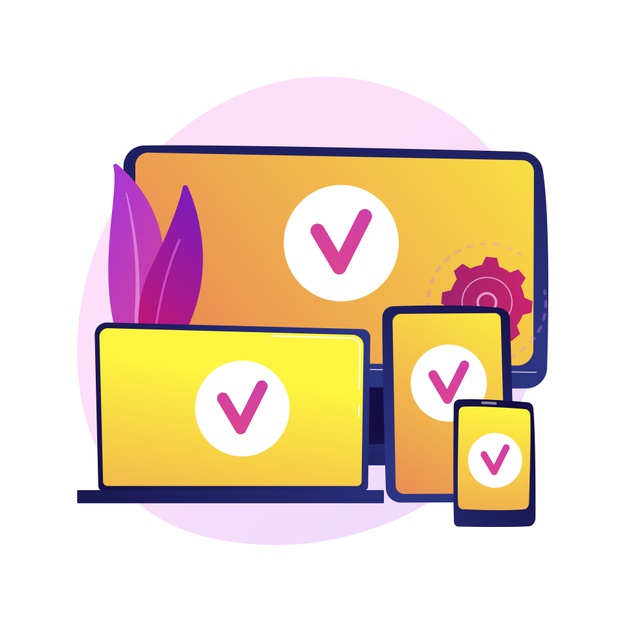 A perfect landing page can be correctly displayed on the screen of a computer or laptop as well as on tablets and smartphones. This is quite convenient for users, as they don't have to face the difficulty that comes with reading the content on a small 4-or 5-inch display.
5. A/B Testing
Once your landing page has the required elements, it's time to do the A/B tests. You need to do this with the copy, the visuals, the design, and all the CTAs. You ought to start evaluating the performance metrics for each page and review it so that each page meets the standards. You also need to be flexible and need to make changes to reach your optimal conversion rate.
Remember to only test one landing page element at a time so that it is clear as to know which change made the difference. For example, in the image below "Page A" has a 21% conversion rate with the blue colour theme whereas "Page B" has a 38% conversion rate with the red coloured theme. Hence, we understood that the impact of the colour is associated with the conversion rate by this AB testing.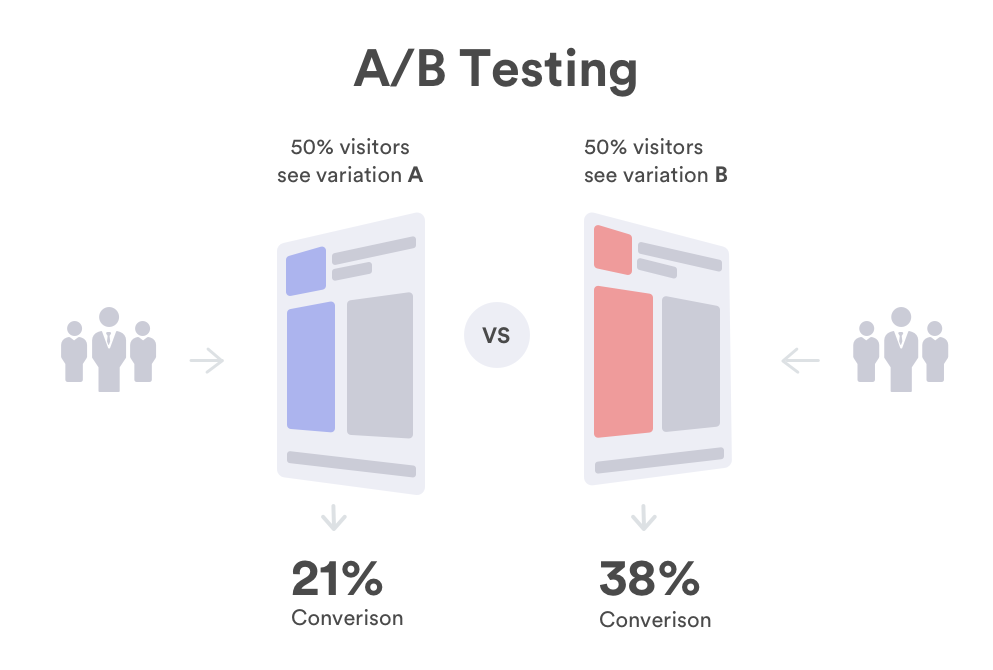 While not directly related, it's important to know the other optimizations you need to be given precedence. Work on optimizing the written copy for search engines and decreasing your landing page's load time, especially on mobile devices. It is a well known fact that even the slightest delay in load time can adversely impact your conversion rates.
Conclusion
To conclude, every business out there needs a converting landing page to achieve its business goals. The landing page plays a key role in increasing your sales conversions and also helps you to provide a better experience to your users. If your business needs an experienced team to develop a landing page that converts, write an email to media@techaffinity.com or schedule a meeting with us to discuss more.
Ajay M
Ajay is a Business Marketer in TechAffinity's Digital Media team with extensive knowledge on tech trends involving cross-platform mobile apps, trending technologies, and more. As a Business Marketer in an IT services firm, he contributes to blogs on unique technology and marketing topics.