Back
UI trends in 2018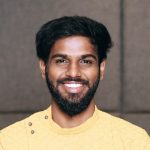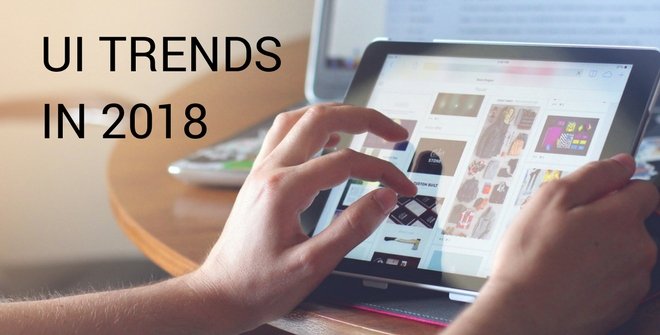 Though the term UI has evolved recently, the UI trends have changed on each passing year. Flat UI which dominated for years is slowly losing ground and new UI trends are emerging. As a UI designer in this fast-paced field, it is important to stay on trend. Here are some of the new UI trends which are gaining speed rapidly.
Larger typography
Large sized fonts are not a new thing; designers have been using a larger font size for headings for many years. What has changed is the way users and designers have embraced it. More and more designers have started to use larger sized fonts to grab the attention of the user. One of the core concepts of the flat design was minimalism and simple typography. Since the styling options were kept minimal, increasing the size was the only way to attract a user. In 2018 you will be seeing many websites with massive headings.
Gradient colors
Gradients: a thing of the past that is making a very strong comeback recently. In recent years with the Flat design being the trend, people preferred to use minimal and light color tones. As the trend evolves, designers are getting creative once again with gradients but on a much deeper scale. Modern displays and design tools offer a much better and smoother gradient experience and designers love it. You can find many backgrounds which use vibrant dual color gradients to great effect. This is a trend which started in the second half of 2017 where many websites started using full-screen gradient backgrounds for the header section.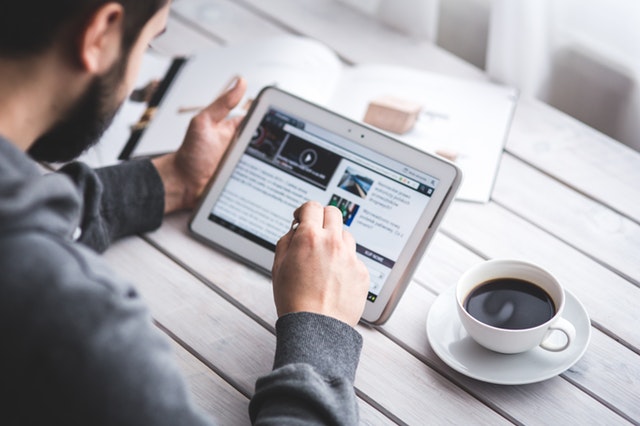 Single page layout (Long-form Content)
Long and single page websites will be a strong trend in 2018. Mainly with the growth of mobile devices and responsive design, the length of the page increases. It is easier for a user to long scroll a page rather than navigating to different pages after clicking on the menu. The idea is to offer a smooth and fluid scrollable content. Long form content comes with an added advantage as it is good for SEO too. The success or failure of the single page content depends on how well the UI is designed and offered to the user. It is both a trend as well as a big challenge for designers. Long scrollable content might take a long time to load which is a bad user experience and hence it has to be optimally designed.
Also read: Prototyping tools for 2018
Full-screen video
Full-screen background images have been in the trend for many years now and the users have accepted it. For some obvious reasons video was not widely accepted as they were either considered intrusive or took time to buffer, etc. With modern technologies, the following things have improved a lot which has led to the rise of full-screen videos.
Real life Full-HD videos
High-speed internet
Fast streaming with cloud and other technologies
High-resolution displays
It is easier to tell a story and also catch the attention of the user with a video than with text. Fast loading and a high definition video are well received by the users these days. Still, full-screen videos are most suited for larger displays rather than mobile devices. A full-screen video for mobile devices is still catching up.
Simple curves and geometries
You would have already seen many websites recently that have curved DIVs instead of traditional rectangular div. Designers have started to implement the same design principle for mobile apps too. Instead of populating the mobile app UI with many elements like graphics, colors, animations, etc designer have opted for simpler yet elegant curves and geometries. The idea of curves and geometries is slowly taking over grid-based layouts. Grids can never be totally replaced but it is evolving into a borderless design with curved edges. The dual colored gradient integrates seamlessly with curved design making them as a go-to combo for designers.
Voice-based UI
Everyone knows how well Siri has evolved and how it has become a life companion for iPhone users. Such voice-activated mobile apps are in trend recently. Voice is used to authenticate the users and also for taking orders. With such voice-based authentication, users no longer need to type in a password or use their social profiles to log in. A recent trend also shows e-commerce mobile apps taking product orders by voice input. With the fast growth of AI and chatbots, voice-based UI have gained immense significance and will dominate in 2018.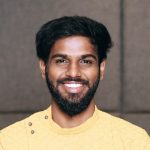 Kannan M
Kannan is a senior digital marketing professional is responsible for developing and executing comprehensive digital marketing strategies to promote a company's services and enhance its online presence. They play a crucial role in driving online traffic, increasing brand visibility, and maximizing customer engagement and conversions through various digital channels.