Back
Team TechAffinity will be at Nexmo Transform 2019 Partner Summit & Vonage Campus 2019 in San Francisco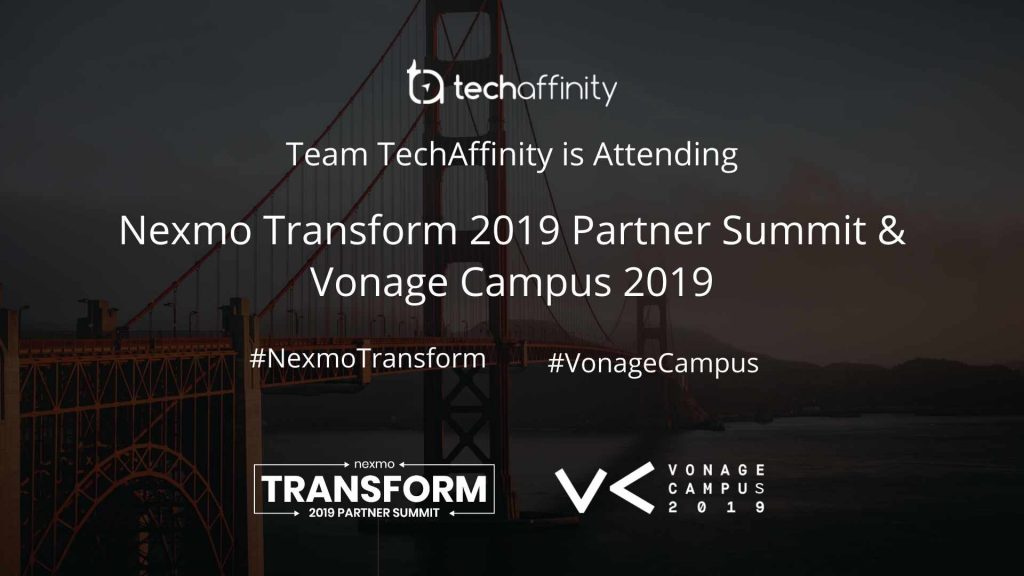 Nexmo Transform is an interactive partner summit for innovative CX solutions, helping partners to boost their offerings. "Nexmo Transform 2019 Partner Summit" is scheduled to take place on October 28th & 29th at Bespoke, San Francisco. It is expected to see a healthy confluence of global developers, business partners and Industry Influencers across various fields.
With an agenda of "Learn from thought leaders. Get hands-on with new technologies. Elevate your customer experience offerings," the event emphasizes understanding the future of communications, building better applications and collaborating with peers and experts. Thought leaders from different industries are set to share stories, experiences, use cases, and new ways to think about communication.
Vonage's first Global User & Developer Conference, Campus 2019, helps you discover new ways to grow your business, connect with customers, and build amazing products. The event is scheduled to be held at Bespoke, San Francisco on October 29th & 30th.
Inspiring keynote speakers, famous tech analysts, and media professionals will be part of this mega event, bringing developers and customers under one roof to develop sustainable solutions for the future. Further, developers get to have hands-on coding sessions to play around with some of the cool API features developed by Nexmo's engineers.
We, at TechAffinity, are excited to be an active part of this conference. Our developers and business leaders are known for exceeding customer expectations repeatedly. We have been consistently fulfilling the needs of our business partners across a wide range of services especially omnichannel communications, cloud migration, software development, mobile development, and e-commerce development.
With 19+ years of experience in these industries, we are bringing our expertise and evolving our services for the future. We are happy to share that we have been awarded the "Freshworks Design Partner" for our UI/UX design services. GoodFirms has recognized us as one of the "Top IT Development Companies in the USA".
So, if you are in San Francisco for Nexmo & Vonage conferences, we would love to meet you to explore new, exciting opportunities.

Anubkumar Dharmabalan
Anub leads the continued development of the TechAffinity's sales team and global customer base. With over 25+ years of experience in various sales leadership and operations roles, he is renowned in the SME industry for playing a key role in conceptualizing and implementing successful sales and business operations models for Small and Medium Enterprises.