Back
5 Important YouTube Video Optimization Factors

YOUTUBE
Youtube is the second most popular search engine in the World after Google with more than 3 billion searches per month. According to Forbes, it is bigger than Bing, Yahoo, Ask, and AOL combined.Google states that 68% of viewers were influenced by Youtube on their purchase decision and it emphasizes the importance of Youtube for marketing.
Why YouTube SEO is important?
There are tons of videos uploaded everyday on youtube and to be precise 500 hours of video are uploaded to Youtube every minute according to Oberlo. Hence, it is inevitable that most of the videos receive few views, and the engagement rate is below par. In order to overcome this Youtube SEO is indispensable which helps in reaching your goals. The five crucial Youtube SEO factors are listed below
Youtube Keyword Research
Optimize Video Title & Description
Engagement Rate
Third-Party Analytical Tools
Video Promotions
1. YouTube Keyword Research
Keyword research is finding the right terms and phrases related to your video and using them in the title, description, and tags. If the right keywords weren't found then it is unable to generate the views for your videos and reach your goal. Keywords for the youtube videos can be generated with the help of the following tools
Youtube Autocomplete
Ahref Keyword Tool
YouTube Autocomplete
The first tool any creator should prefer is "Youtube Autocomplete" because it suggests keywords that most people are searching for. For example, if you have done a video about "Youtube SEO" and looking for the keyword suggestions then you can simply type your keyword on the Youtube search box and it will suggest you a list of keywords from which you can choose the one that best suits you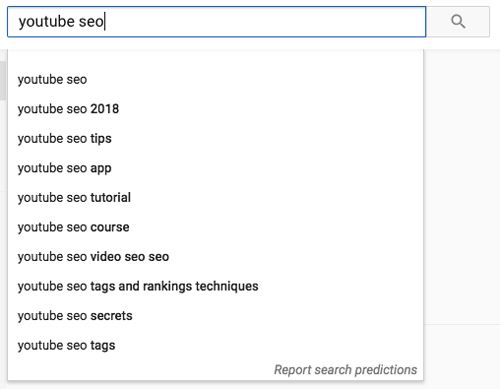 Ahref Keyword Tool
Another good tool to use for Youtube Keyword research is Ahref. It helps in generating the keywords in Phrases and also in question form along with their search volume.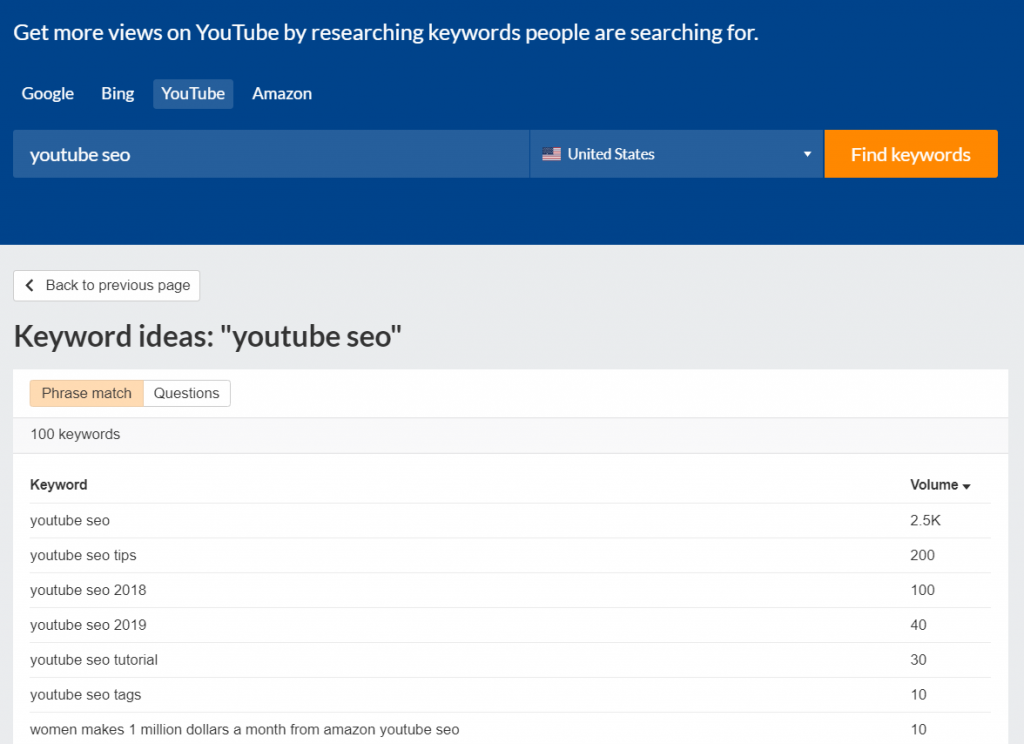 2. Optimize Video Title & Description
Optimizing the title tag and the description of your video is essential to gain high visibility and rankings in the search engine because it helps the search engines to understand what the video is all about. The character limit for the title is 100 whereas the description character limit is 5000.
Tips for Title Tag & Description:
Use the most valuable keyword in your title
Instead of just stuffing the keywords in the title, make it more human-friendly as it increases the Click Through Rate (CTR).
Get the title ideas from your competitor's Videos
The description isn't really for the viewers and it helps Youtube search engine to understand your video in a much better way. Place the relevant keywords and hashtags in the description.
Usage of the website links in the description helps in gaining traffic. For example, if your video is about an SEO audit and you have created a checklist, then upload the checklist to your website and place the URL in the description. So, people who are in need of the checklist will visit your website.
It is also suggested to place your other video links in the description as users may watch that video.
3. Engagement Rate
Viewer's engagement is highly important for your videos appearing high in the search results. The engagement factors include Click through rate (CTR), Likes, Comments, Subscribers & Watch duration.

Click-through rate of the video increases when the video has a well-optimized thumbnail, title, and description.

Likes & comments are other rankings signals which are proved from the analysis of Backlinko.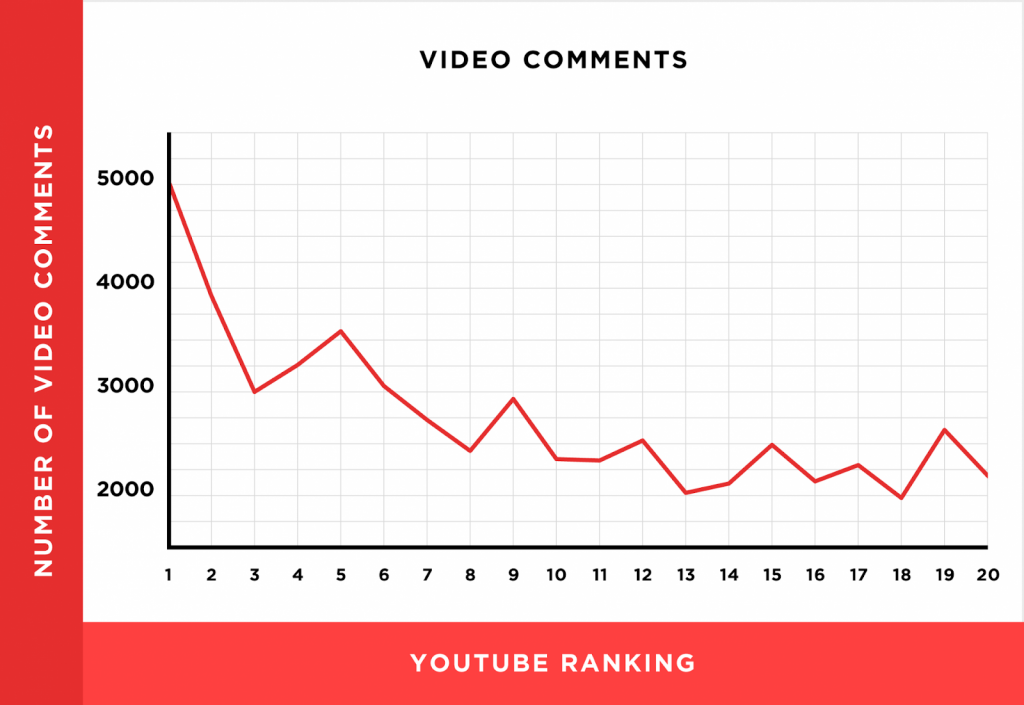 Image Source: Backlinko
The above image depicts that Video comments have a strong relationship with the rankings and it isn't surprising.
The number of subscribers determines the popularity & views of the channel. Gaining fake subscribers using any medium is useless because Youtube has the benchmark of it as 14% of view to subscriber ratio.
Create videos with a long duration as it tends to rank better according to Search Engine Journal. It states that two minutes videos rank worse compared to the videos that are having a duration of 2 to 20 minutes as shown in the image below
4. Third-Party Analytical Tools
There are several third-party tools that help in Youtube SEO. Video IQ is one of them. Video IQ software helps in creating SEO-friendly titles, descriptions, and tags. For example, if you have created a video about "how to generate views" then VideoIQ generates keywords as shown below

It also helps in getting the tags your competitor used which can help in your keyword research. For example, if I want to know the tags my competitor used for a video about " Google Tag Manager" then I can visit his video regarding Google tag manager, and the tags are displayed as shown in the image below with the help of the VideoIQ extension.

The video IQ will also generate an SEO score out of 100 based on the tag count, tag volume, keywords in the title, keywords in the description. The higher the score, the higher it will perform in the Youtube search. The score will look like as shown below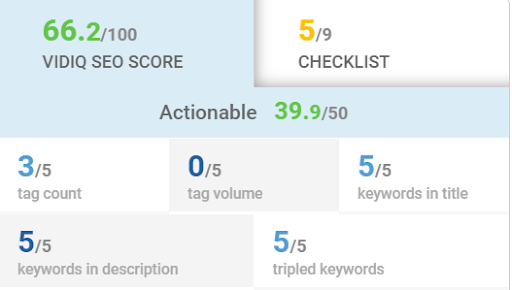 5. Video Promotions
You can promote your youtube videos on other platforms such as embedding them in your website blog posts, sharing on social media, sharing the link via newsletters, and if the budget allows promoting via Google Ads Video campaigns.
While promoting your Youtube video via blog posts enhances the chances of ranking your video on Google which is the most popular search engine in the world, It also guarantees a lot of views and engagement.
Google Ads video marketing is exclusively made for promoting youtube videos. With the help of this, you can rank for your desired search term until your video ranks higher in the search results. The Google Ads video result is highlighted in the image below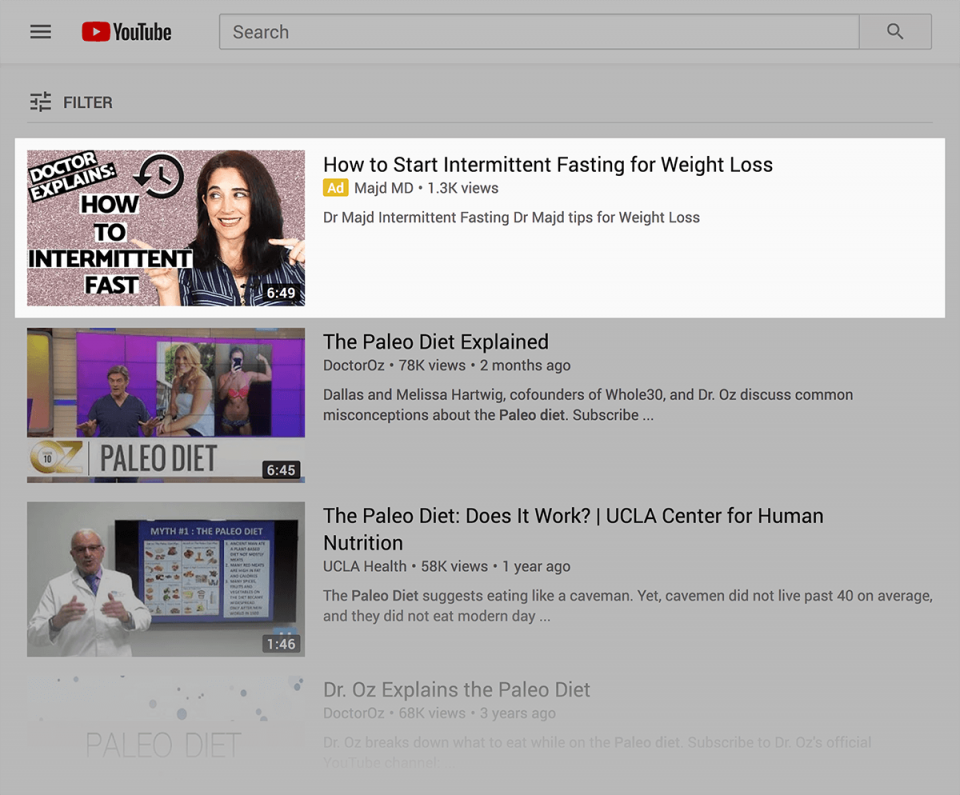 Conclusion
Youtube SEO is unavoidable if you are keen on receiving views, subscribers, and improving your rankings. It requires the investment of time and effort. Take one step at a time and fulfill all the checklist then you are all on the right track to rank higher in the Youtube SERPs.

We, at TechAffinity, have expert digital marketers who are well versed in digital marketing activities, and will help in generating revenue for your businesses. Feel free to send your queries to media@techaffinity.com or schedule a meeting with our experts.
Ajay M
Ajay is a Business Marketer in TechAffinity's Digital Media team with extensive knowledge on tech trends involving cross-platform mobile apps, trending technologies, and more. As a Business Marketer in an IT services firm, he contributes to blogs on unique technology and marketing topics.