Any company should keep CRM in its heart to scale up the business over time. Using CRM, customer data/resources shared to one team, say sales team, can be shared with other teams (like support team) seamlessly. This helps in managing the resource transition with ease.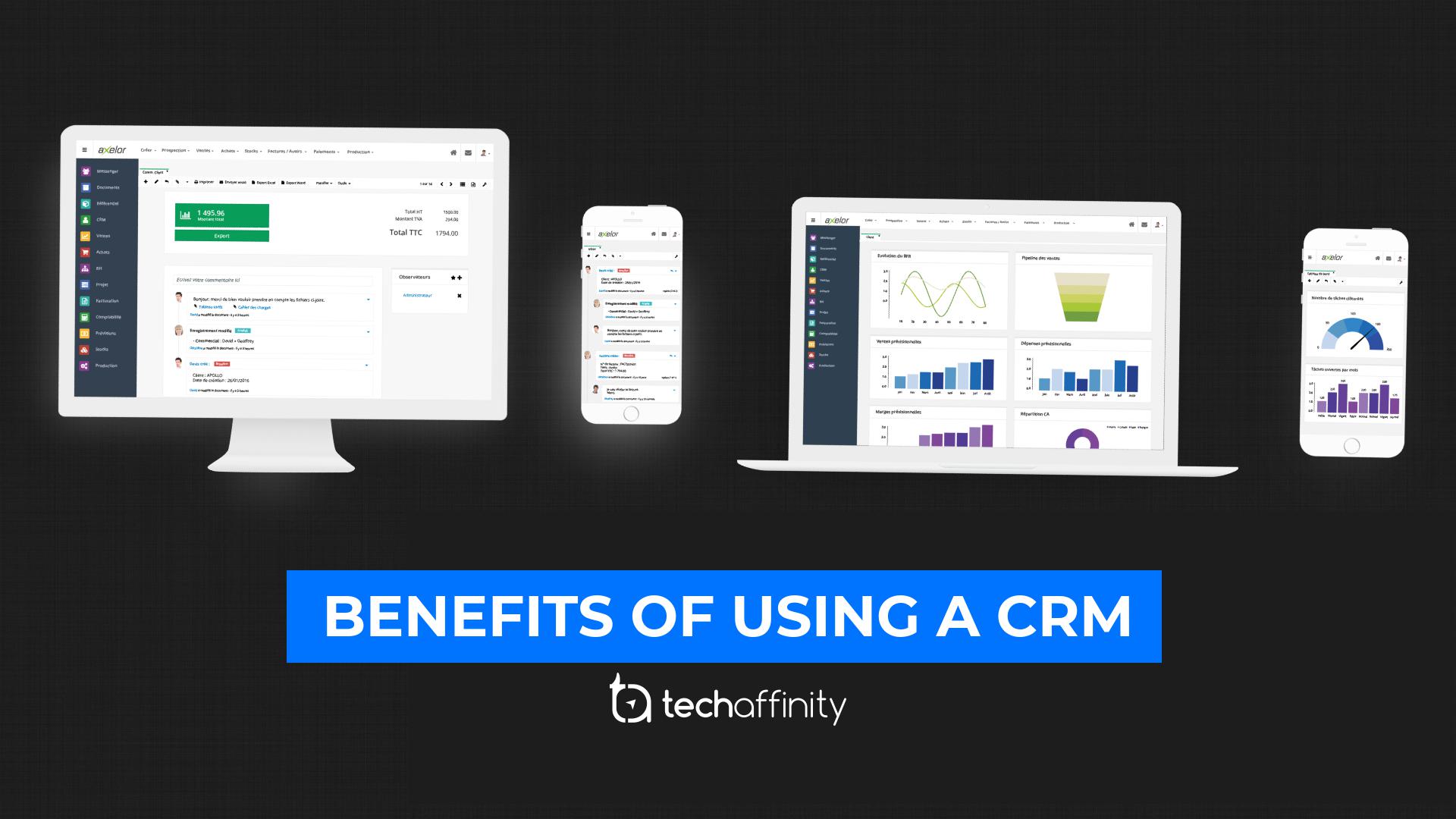 Every company must be having their own CRM because each business is unique and the requirements differ. You can either go for a CRM product built by a company or build your own by availing CRM development services.
When you go for a CRM product, you will have limited possibilities in terms of customization. But, when you opt for CRM development services, you can customize the entire CRM according to your business needs. Here are 6 benefits of customer relationship management.
1. STREAMLINES INFORMATION
In order to be successful in the long run, owning a space in your customer's mind is inevitable. How is that possible? You need to remember and take care of every tiny detail expressed by your customer. Taking care of these nuances will enrich the positive customer experience.
Here, the purpose of a CRM system is to organize those tiny details in one place and refer to it whenever required while carrying out the tasks. Important notes and reminders, important dates, documents, miscellaneous data, etc. are the major data a business project would bear.
When you avail CRM application development services, it helps to keep these data accessible at any time from any device. This helps save time and thus money!
2. ACTS AS AN INFORMATION REPOSITORY
CRM development services have saved many businesses from their worst nightmares. With CRM, management life becomes much easier during the event of resource transitions. This includes interdepartmental shuffle of employees, or in the worst cases, an employee quitting the job.
This is so because they carry valuable information about the customers' likes and dislikes. When an employee leaves your company, he/she is taking away the knowledge that helped to offer great customer experience.
Here's where CRM comes into action and acts as a repository to store data. All the data related to customers' preferences, history, and other parameters are stored here. These data are stored in the CRM cloud and does not end up only in the hands of one person. Also, you can avail CRM application development services to view this data from wherever you want.
Hence, after availing CRM development services, you can perfectly cater to your customers without any glitches.
3. ENSURES BETTER CUSTOMER SUPPORT
You must have come across this popular phrase – Time is money. Yes, that includes your customer's time also and it is even more precious. To effectively value and serve your clients with your products and services, avail CRM development services and CRM application development services today.
No business wants its clients to be dissatisfied with their products/services. If satisfied, they can possibly turn into a returning customer. Sometimes, they tend to refer to some of their friends.
For instance, how will you identify the problem and resolve it quickly if you have a dissatisfied client? CRM benefits you in identifying these issues. It provides all fundamental data within a minute at the tap of a button. The fundamental data include previous purchases, preferences, service history, etc.
This helps to identify the problem in minutes and provides a quick solution. When you are well-equipped with sufficient intelligence, locating a solution is just a cakewalk. Hence, CRM benefits client service to the next level.
4. ENABLES TASK AUTOMATION
A number of secondary sales tasks are easily carried out with the help of an appropriate CRM. Right from versatile paper works to report tasks, everything can be taken care of by CRM through automation. Hence, your personnel can focus on the tasks of high priority.
To have versatility in the process, you can avail CRM application development services & CRM development services. This helps to accomplish tasks at any time from anywhere without any hassle.
Hence, it saves time and your sales personnel's productivity goes up!
5. IMPROVES TEAM'S EFFICIENCY
A CRM tool formulates effective coordination among a number of teams and their members at the click of a button. This kind of functional versatility helps in coordinating departments such as marketing, procurement, client servicing, and trade.
After availing CRM development services, you can store the customer data on the cloud. It helps to access the data from any device by your personnel. For a seamless experience, you can avail CRM application development services as well. This can eliminate and curb the misunderstanding and paves the way for coordination.
6. IT HELPS TAKE AN INFORMED DECISION
When you look for ways to take your business to the next level, your best companion would be the reports and the data from your CRM. With an effective analysis of all the metrics, you will know where you are falling short. Therefore, your CRM has the potential of laying the foundation for your future.
It all begins by availing CRM development services for your business. Thus, you can get custom reports with data for your business, and the CRM application development services for an omnichannel experience.
As said earlier, CRM is inevitable in any business. So is availing CRM development services and CRM application development services. It curates the information of all the clients with their respective requirement.
TechAffinity has hands-on experience in providing CRM development services and CRM application development. Get in touch with us to simplify your business operations, and scale up your business to the next level.