Back
These Magento Extensions Will Help you Easily Manage your Magento E-Commerce Store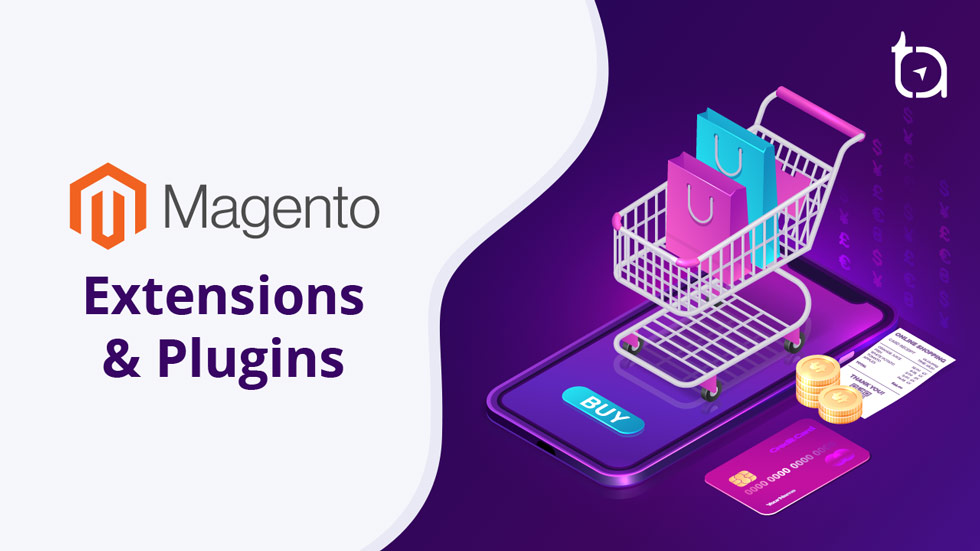 Is Magento open source? When you plan to start your E-commerce business, it's impossible to not come across this question. Yes, Magento is an open-source E-commerce platform written in PHP. It is one of the most popular E-commerce CMS in the network & was developed using the Zend Framework. In the E-commerce landscape, Magento has become one of the most popular and powerful platforms. It is preferred by a majority of E-commerce store owners as it enables you to customize the SEO aspects of your product page, supports mobile-friendly web page layout, and more. Moreover, just like any other CMS, you can use custom Magento marketplace extensions and plugins to enhance your online store's performance.
Magento extensions and plugins help you have a firm online presence of your store in new and exciting ways. Also, it simplifies the customer journey and helps to enhance the customer experience. You might be left stranded amidst a bunch of extensions and plugins as you have many extensions to perform one task. So, here we suggest you 7 Magento marketplace extensions and plugins for your E-commerce store.
1. SEO Hub
Ideating and implementing an SEO strategy for an E-commerce website might be a time-taking process. Thanks to the SEO hub Magento extension as it simplifies the process. It is one of the most popular SEO extensions in Magento's marketplace. It is designed to handle meta tags, data feeds, canonical URLs, and so on in a matter of minutes. Moreover, you can configure it to alert you when something is not going as per your SEO strategy.
2. Delivery Date Scheduler
With increased online purchasing, your users prefer to know the delivery date of their item in advance. With Delivery Date Scheduler, you can tender insights on the shipment of their packages. Moreover, you can also add calendar view options.
3. Magento Shop by Brand
When you decide to own an E-commerce store that sells a wide range of products right from electronics to home & furniture, sportswear, etc. then you should be having this extension for sure. The Magento Shop by Brand extension helps you to have dedicated pages for every brand in your list, and add the respective products to brands. It helps to categorize your products efficiently. It offers a cool feature that lets you list the brands from A-Z.
4. Advanced Product Designer
Impressing your users and putting them first will yield a more loyal user base than you think. Advanced Product Designer just does the same effortlessly. Let's assume you're the designer of the products you sell, such as keychains, clothes, pens, etc. When you integrate Magento extension with your store, you can let your users add personalized designs/names on these products. Thus, you can set your business apart and gain more visibility among your target group.
5. Magento Refer a Friend
Once you drive enough traffic to your Magento E-commerce store and want to go the extra mile, take advantage of your users' network. Magento Refer a Friend extension helps you to market your products with the help of your customers to more people. With this extension, you can let each of your users have unique links and manage the transactions that come from their referrals.
6. FedEx Smart Shipping
When it comes to shipping of the orders received, you can simplify the process with the help of this extension. FedEx Smart Shipping helps you to manage different aspects of shipping such as fetching shipment pricing from the website, arranging for consignment pickup, and more. Just install the extension, configure it according to your requirement, and let it do the heavy lifting for you.
Also Read: 7 Tools to Speed Up your WordPress & Magento Managed Online Store
7. Magento Price Match
Magento Price Match is an awesome extension to give discounts to only certain customers. It is made possible by using a simple strategy. Whenever your users find a product cheaper than the one listed on your website, they can report and request for a discount. Thus, you can offer discounts to only those who report the price difference and not to the entire user base. In this way, you won't be losing much on your profits.
Building a Magento E-commerce store and not having the right extension will result in inefficiency in managing your store. Hence, take advantage of these Magento marketplace extensions and go the extra mile with your E-commerce business.
With a dedicated team of E-commerce developers, we can build fully functional E-commerce platforms with all the necessary tools. When you are on the lookout for E-commerce platform development, feel free to shoot your requirements to media@techaffinity.com or get in touch with us by scheduling a meeting.

John Prabhu
John is a Business Marketer in TechAffinity's Digital Media team with an extensive knowledge on tech trends involving Kubernetes, Google Flutter, and more. As a Business Marketer in an IT services firm, he contributes to blogs on unique technology and marketing topics.