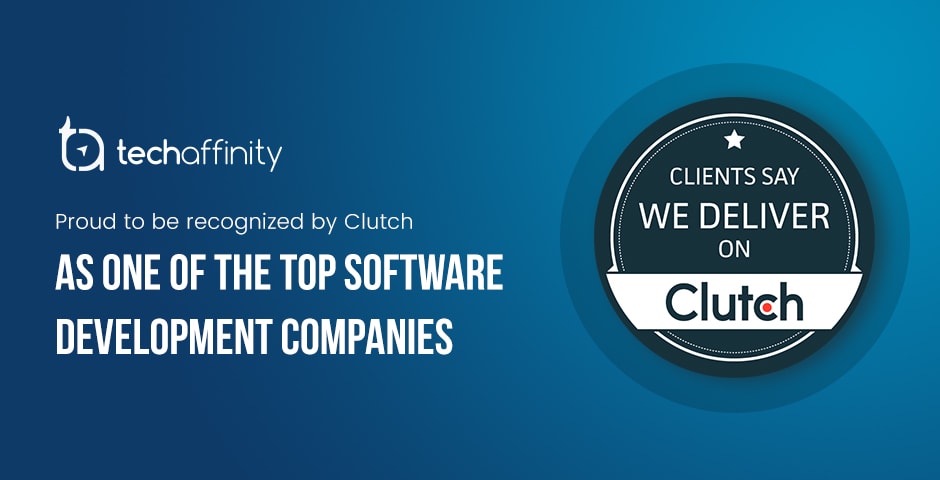 TechAffinity is a technology-driven software development company dedicated to delivering custom software solutions for small businesses, medium enterprises, and large corporations across numerous industries. A top SAAS product company Freshworks inc, had authorized TechAffinity as a key solution partner. We have a broad and diverse client base and our experiences executing quality development projects are what have contributed to our own growth as a company.
With 2018 nearly coming to a close, we're proud to announce our partnership with Clutch, a B2B ratings and reviews platform that has caught wind of TechAffinity's accomplishments this past year, and has included our team on their list of the best software development companies in Tampa in 2018.
Clutch collects ongoing research of service providers in the web and app development, IT services, and advertising and marketing industries. Their coverage of software development firms is one of the largest and most competitive on their platform, making us feel very accomplished that we already have a profile that's gaining speed on their site.
What makes Clutch different from other reviews sites is their team of analysts that will speak directly with our partners and clients to gather their feedback on working with TechAffinity. The interviews are curated and published as written reviews on our Clutch profile, the first one of which is live now.
Our first review on Clutch has given us the opportunity to reflect on how far we've come as an agency – The feedback was more than we could have expected:
"TechAffinity delivered on the timelines that we set according to the agreed-upon scope. I have met one of their sales managers, and I enjoy their attitude. It's easy to let them know if something isn't working for me, and they will make adjustments as needed."
Our client also commented on our team's wide range of tech expertise:
"TechAffinity Inc has the capability to work with any technology I need. If I don't know a certain programming language, I can describe the work I want to be done, and they will make the necessary connections to set it up properly."
In addition to having a profile on Clutch, we're also featured on their sister-website, The Manifest, as one of the best software developers in Tampa in 2018! Similar to Clutch, The Manifest provides industry insights, how-to guides, and recommendations for businesses.
To learn more about our company and why you should hire us, be sure to check out our profile on Clutch.