Back
The Effective Use & Purpose of CRM

As we have already discussed the "Benefits of CRM", here we're going to discuss the effective use & purpose of CRM. The primary usage of CRM is discussed in the above blog and it is not only limited to that. It is broad and comprises of the activities of an entire company or business.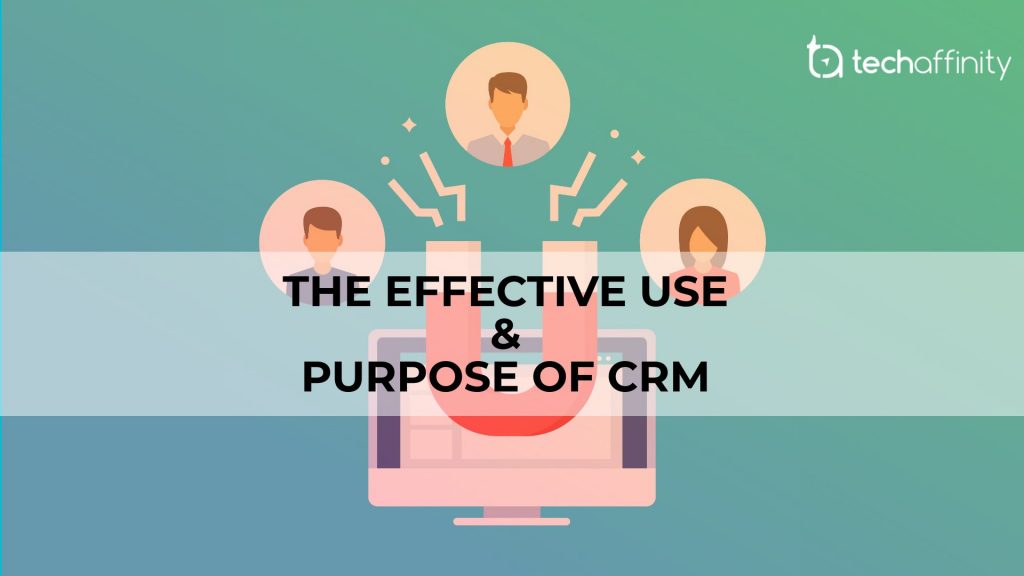 CRM is highly oriented towards handling, and understanding the clients, and their requirements. Therefore, many sales personnel confine their answer to the question, "What is the purpose of a CRM?" to retaining clients. But, that's not the only purpose of a CRM. It includes attracting new customers, reducing the cost of acquisition, etc. Pitching to new clients and acquiring them is comparatively costly and a long process whereas, retaining the existing client base is cheaper. Though the conceived value of a CRM is less, the practical usage of CRM is more.
EFFECTIVE USE OF CRM
It can be broken down into four schemes that are needs, plans, training, and data quality.
1. Need
There should be a reason behind embedding the CRM system in your environment. Your needs usually consist of smaller demands of each department. Once you clearly identify and define those targets and expectations from your CRM, you can expect the desired results from your CRM system. Initially, you can start using CRM systems for building client information and then work on rendering services.
2. Plan
The plan is the pillar of your CRM system. It should be as elastic as possible such that it can adapt to all whatever changes the industry/market faces. The predefined needs act as the building materials of your plan and this emphasizes the importance of defining the needs properly. Your plans should be distinctive and should not be changed in accordance with the software's capabilities. Therefore, identify the CRM system for your needs, and don't cut down your demands for a certain software.
3. Training
Next is a very important step of the lot. Introducing the CRM system to its users i.e., the personnel assigned to handle the clients. For the effective use of CRM system, the users must understand the system inside-out rather than simply following the instructions. Also, they must leverage the opportunity of assigning certain tasks to the tool through automation.
4. Data Quality
CRM deals with clients and accumulates lots and lots of data. It is well-known that data are the essence of commercial activity/success. Therefore, personnel with more intelligence can bring in more fruitful activities. Successful results are obtained only when there is proper coordination between a human and the machine.
Key Benefits of CRM
Improved Informational Arrangement
An informational database about customers is the key to offer them a great experience. In fact, every minute detail is valuable and relevant to operational demands. In that sense, one of the primary purposes of a CRM system is to organize data for your convenience. All important notes, dates, reminders, and other data are kept and accessible at any time from any device. That, in turn, saves time and money.
Enhanced Interplay
The reverse side of the innovation deals is not with clients but team-spirited workforce. Let's imagine that your best employee decided to drastically change the life and left his or her job. Ten years ago or more, such a situation could bring terrible consequences as one person was in charge of communication with multiple clients and processing of their data. You may ask, "What is the purpose of CRM in that scenario?" Actually, the software tool won't let it happen since all contact info, preferences, history and other intelligence are not concentrated around personnel but stored in the cloud. In other words, you may change employees of your customer support without a significant impact on the performance.
Improved Customer Support
Time is money. I.e., your customers' time is also valuable. An unsatisfied client is the last thing desired by any company. So, how is it possible to resolve a problem fast and efficient? CRM comes to rescue since it provides all essential data such as past purchases, service history, preferences, etc. within seconds to aid in finding a solution. In practice, being armed with sufficient intelligence means to locate a solution within a few minutes. Hence, CRM shifts client service to an advanced level.
Task Automation
Generally, a sale consists of small tasks including paper works, report tasks, invoice generation, legal issues and so on. All these secondary transactions can be done easily using the right CRM system. So, the responsibility of secondary tasks is shifted from the personnel to your CRM. As a result, the saved time and efforts can be diverted to other important tasks and solutions.
Team Work Efficiency
No matter how many members are on your team, a CRM tool makes collaboration simpler. Such functional versatility helps in streamlining internal departments like procurement, marketing, client service, and trade. All the customer data is stored in one place with access to all your team members. An immediate data update and sharing will minimize many unnecessary misunderstandings and confusions that are possible at uncoordinated operation.
Improved Reporting and Analysis
Your business' progress depends on proper analysis of various metrics present in your CRM system. CRM systems store data in its database to make it accessible to all of your team members at any time from any place and device. As soon as you accomplish an analysis, you obtain the capability to make an automatic report to save your time. You should not be afraid of losing the necessary report since you can prioritize it for the future utilization. Perhaps, in that case, the purpose of CRM is to lay the foundation for your future success.
PURPOSE OF A CRM ON PRACTICE
To run your business successfully without any undesirable effects, you need exact answers to all your questions. Lack of exact answers will result in not taking more informed decisions. CRM gets all the required answers to your questions on time. Some of the use cases of CRM are listed below:
Enables any kind of interplay and/or cooperation with clients.
New client acquisition.
Assists the current customer base.
Retains clients.
Differentiating and identification of high-rated clients against the low-rated ones.
24×7 information update and technical assistance on web resources.
Helps approaching clients in a personalized manner.
Smoother guiding and scheduling of follow-up sales.
Tracks all the communication happened between a client and an agent
Spotting the possible threats at the early stages.
Takes care of client complaints and helps in rectifying it.
Helps to understand the distinctive preferences of clients
Personalizing service/product offerings to each prospect/customer.
With the monetary benefits, workflow improvement, automation of certain tasks, streamlining new ideas and other useful aspects, the purpose and benefits of CRM are unlimited. If you are looking for a customized CRM for your business, feel free to visit this page. Also, if you have any queries or if you are keen to discuss in detail about CRM, you can send in your queries to media@techaffinity.com and we will get in touch with you shortly.

John Prabhu
John is a Business Marketer in TechAffinity's Digital Media team with an extensive knowledge on tech trends involving Kubernetes, Google Flutter, and more. As a Business Marketer in an IT services firm, he contributes to blogs on unique technology and marketing topics.