Back
6 Benefits of Digital Marketing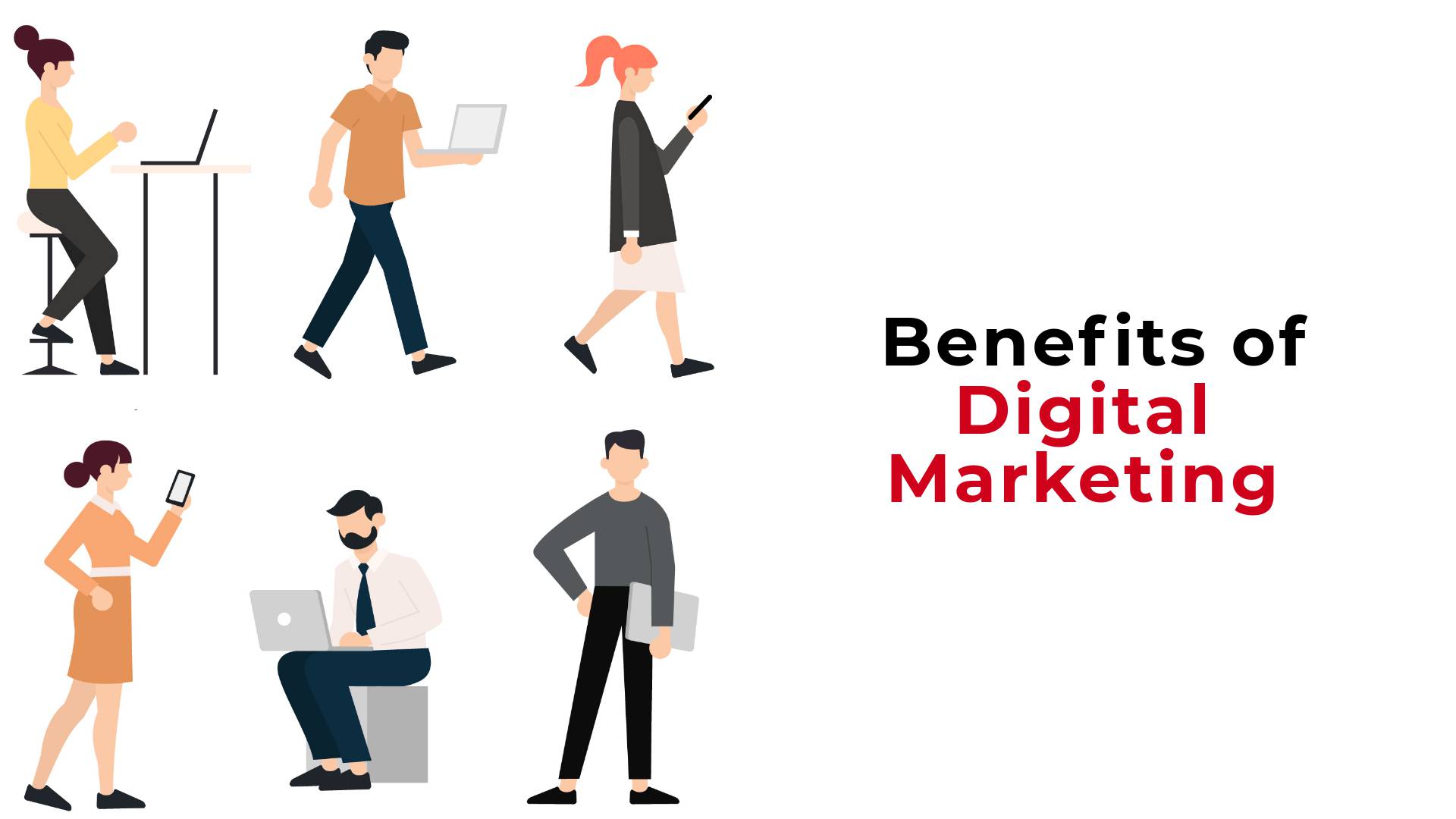 The use of digital platforms to market your service/product on the internet to reach a targeted audience is digital marketing. It also includes mobile marketing, display advertising, and many other multimedia devices. It helps to create brand awareness, measure marketing campaigns, granular targeting of audience and more.
Here are the 6 major benefits of digital marketing:
1. KEEPING UP WITH THE COMPETITION
No matter whether running a small, medium or large business, digital marketing provides resources that are common to all irrespective of the size. Strategies such as paid ads and the use of third-party tools may yield instant reach of your brand whereas; other digital marketing strategies are long term processes and open up the opportunity to compete, improve brand awareness, and build an audience.
2. FIND YOUR AUDIENCE WITH SEO
SEO stands for "search engine optimization." It is the process of getting traffic from the "organic" search results on search engines. In addition, it is a great way to increase the quality of your website by making it user-friendly, faster and easier to navigate. By implementing SEO, you get a definite increase in traffic, better ROI, higher brand credibility, etc.
In order to be found by a set of the target audience, and rank on search engines, it is advised to practice the best SEO strategies. It's incredible to note that 81% of B2B purchase cycles begin with a web search. When your business gets listed on the first page, it tends to boost your traffic. Thus, when compared to other digital marketing channels, SEO boasts higher conversion rates.
3. ENGAGE WITH YOUR AUDIENCE ON-THE-GO
Mobile marketing strategy has many techniques to reach a specific audience on their tablets, smartphones, and other portable devices via E-mails, websites, SMS and MMS, social media, and mobile application features (e.g. push notifications). Also, mobile marketing is capable of rendering personalized UX (user experience) to new users.
With rapid development in the technology space, most of the users prefer portable devices such as laptops, tablets, and smartphones over desktops. With the advent of smartphones, businesses have witnessed an increase in mobile traffic to their websites.
Global Web Index says, more than 8 out of 10 internet users own a smartphone, and 90% of them spend their time using apps. Thus, mobile marketing helps you reach your users in their most native environment.
4. EMAIL MARKETING COMMUNICATES BEST
Email marketing is a powerful strategy because it is capable of sending commercial messages targeted to your existing customers and potential customers. For a week-long campaign, you leverage third-party tools and schedule personalized and customized emails for your targeted customers.
While developing a digital marketing strategy, it is strongly recommended to cater to the right audience with respect to their preferences. Email marketing is a powerful marketing channel because most of the people prefer to hear from brands through email. Thus, there comes a need for an engaging email marketing strategy.
5. BUILDING TRUST IS EASY WITH SOCIAL MEDIA
Social media management is the process of creating an interesting content about your brand, scheduling/posting those content on social media platforms like Facebook, Instagram, Twitter, etc., engaging with the audience, and analyzing those content.
With the advent of social media, the likes, shares and, reviews from your customers will be visible to their friends. Recommendations and referral are powerful enough to gain the trust of your potential customers. When your brand is referred to a person by someone, that person is more likely to engage with your brand.
This immediately builds trust and gives your potential customers a reason to check you out. Hence, recommendations, likes, and referral make your brand stand out from your competition.
6. GRAB PERSONALIZED ATTENTION THROUGH DIGITAL MARKETING
Digital marketing brought in a drastic change in the way marketing strategies is approached. It helps companies to make more informed decisions by providing better insight into segmentation.
Also, it creates an ideal customer experience with the help of customer behavior tracking and personalized outreach. An enhanced customer experience potentially increases trustworthiness and loyalty, and hence more conversion.
Building customer trust, reaching the potential audience, and more informed data to make better decisions are a few of the digital marketing benefits. Start off with email marketing, if you haven't yet, to track & boost your campaign and improve your ROI.
I hope the benefits of digital marketing which I shared above are good enough for you to try out digital marketing for your business. To enrich your campaigns and for more effective digital marketing strategies (email marketing, social media marketing, SEO, SEM, mobile marketing.), feel free to get in touch with us or write to us at media@techaffinity.com.

John Prabhu
John is a Business Marketer in TechAffinity's Digital Media team with an extensive knowledge on tech trends involving Kubernetes, Google Flutter, and more. As a Business Marketer in an IT services firm, he contributes to blogs on unique technology and marketing topics.